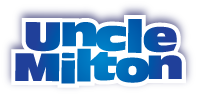 If I ever went back to school, I would be a historian or a paleontologist. I love history. I think its really awesome what we can learn from the remnants of the past left behind like dinosaur bones or ancient crypts. That's why I think Uncle Milton is so cool. Uncle Milton's started out in 1946 and has been making amazing toys that are fun and educational at the same time ever since then. In that time, they have came out with toys for product lines such as Ant Farm, Dinosaur Train, Fireworks Lightshow, Horrible Pets, John Deere, Star Wars Science, Nat Geo, Tarantula Planet, and more.  They have agreed to sponsor two amazing prizes for the Back To School Blast Event which are the Ultimate Dinopedia Dinosaur Globe and Ultimate Dino Digs.


As you can see from their pictures above, these are some pretty awesome toys.  I am going to say that if I was a kid, I would want them both.  I used to 'excavate' things from the ground all the time as a kid. Children can excavate the bones of a dinosaur from real clay rock with the excavation tools, brush, and safety glasses which are included! Then after they have 'discovered' the dinosaur bones, they can assemble them to create their own dinosaur skeleton just like in the museum!  I know my boys would love the Dinopedia Dinosaur Globe because it looks cool and scary at the same time.  The T. rex skull lights-up to make it even more wicked! Little M loves globes because he likes to show people where our family is from originally.   The Dinopedia Dinosaur Globe comes with a Dinopedia mini-guide so children can match up dinosaurs in their different places on the globe. It also includes a magnifier for up close viewing which I think is a plus for parents (I know I would need it) and for kids so that they look more 'professional' while playing.
If you want to know more about Uncle Milton, you can connect via the below:
Twitter: @unclemiltontoys
Facebook: https://www.facebook.com/unclemilton
Youtube: http://www.youtube.com/user/UncleMilton1
This is a sponsored review. As always, all opinions are my own and have not been influenced by outside sources of any kind. Also note that Generations of Savings is not responsible for sponsors that do not fulfill their prize. We have represented each sponsor with the expectation that they will fulfill their prize in a timely manner. While we are not responsible, we will make every effort to assist the winner in obtaining their prize.