I was recently sent a PMD – Home Microderm Abrasion Device to try out and I cannot stop raving about it. I have never had bad skin really. As a teenager, I was lucky enough to never have breakouts despite living on Mountain Dew and Taco Bell. However, my luck ran out when I turned 19 or maybe 20. I started having oily patches on my nose and forehead but my cheeks and chin were so dry they were peeling. I tried a few products and they mostly just broke me out. I have mentioned before I have terribly sensitive skin. I got a little older and it got better but I still have breakouts often.
The PMD MicroDerm System includes 1 personal microderm, 5 exfoliating discs (2 green and 3 blue), 1 electric cord (Standard U.S. Outlet), 1 facial cap, 1 body cap, 1 reusable filter, Instructional CD and Pamphlet.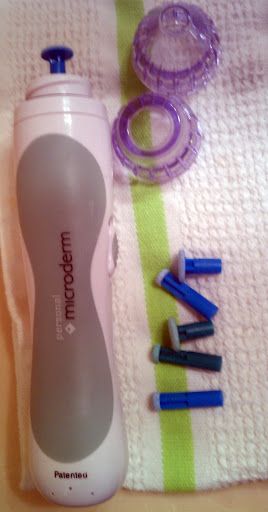 I got everything all laid out perfect the first time I was going to use it. I watched the instructional CD which I highly recommend everyone since it has some really useful information. Then I washed my face with a very gentle cleanser. I tried the product out first on my hand and I thought I had a good pattern down. Then, I got started on my face and only did one pass across each area and did not let it linger. Because of the fact that I have such sensitive skin, I still had a red face for a day or two in some spots. I probably let it linger too long or it could be that I haven't worn makeup in awhile or used any products on my skin. Having a sick kid has caused me to not even wash my face much less apply products to it.
After the redness went away, my face felt beautiful. I made sure to use a gentle toner and moisturizer after the application. I also made sure to wear sunblock for a couple of days after using it. The second time I used it everything went fine and my skin has never felt so nice. I tried the the larger exfoliating disc on my chest where I often have breakouts and it has helped clear it up. I have only used it once on my chest but I have the feeling that it is going to be the best thing that ever happened to my skin!  I could totally feel the difference even after the first application. I have already had three friends offer to buy the PMD from me for $250 even though it is only $180 online so they wouldn't have to pay the super high prices at the spa. I am keeping it though because I like how my skin feels after using it! I like knowing my skin is healthy and I can keep it looking young. It is so incredibly worth the money especially if you usually pay the outrageous spa prices. 
You can purchase a PM Personal MicroDerm from Best Buy!  To watch the segment about the PMD MicroDerm on The Doctors click here.
You can also watch a video of the Personal MicroDerm on Dr. OZ below.

I have received the reviewed product from Best Buy for free. As always, all opinions are my own.