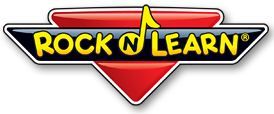 I recently had the chance to review a great learning DVD for Baby E. I got it even though he is a bit young because in my opinion, children are never too young to start learning if its fun. Rock 'N Learn Letter Sounds DVD is a great teaching tool! Baby E loved it! He jumped around and tried to touch the screen. He even sounded out some of the words which is awesome! I am really surprised it kept his attention because he is not a TV baby. He usually cant sit still long enough to even care about the television.
My older son, Little M, even liked it. Though at 9he should be too old for that kind of stuff. He danced around with Baby E and called out the letters and sounds. I really like the DVD because I think my son can learn and grow with it. I like how it progresses from the alphabet to slightly harder letter sounds and letter recognition. It's also very colorful and engaging. Baby E was literally glued to the screen. He almost didn't know what to do. Now when he wants to watch it, he will get the DVD case and bring it to me and he will pitch a fit if I don't put it in.


About Rock 'N Learn:
"Rock 'N Learn began as an idea that would help children learn by putting educational material to music with a current sound — the kind of music that kids enjoy and find motivating.  Rock 'N Learn programs help students learn math, phonics, reading , early childhood, social studies, Spanish, test-taking strategies, writing, and science.  The DVDs incorporate music with exciting, colorful imagery.  Rock 'N Learn programs have received numerous awards and they will continue to develop quality audio and video programs that hold interest and help kids learn."
Rock N Learn products are available for purchase right on their website! The Letter Sounds DVD retails for $19.99. Right now, you can receive 25% off your entire purchase by using code JQ7711 (contiguous U.S. residents only) upon checkout.
You can find out more about Rock 'N Learn and their other great products on their website, by liking them on Facebook, following them on Twitter, or on Google +.