Whew.  That is what I have to say about my time at Lumberjack Feud. Cause I was hot by the end of it watching all those amazing lumberjacks.  Before we went in to the show though, we browsed the extensive gift shop and let me tell you that if I didnt accidentally leave my wallet at the cabin, I would have bought so many things.  I loved the bear hats like I am wearing in the above picture and I loved the Lumberjack Feud tshirts like below and the longjohn underwear with the butt flaps.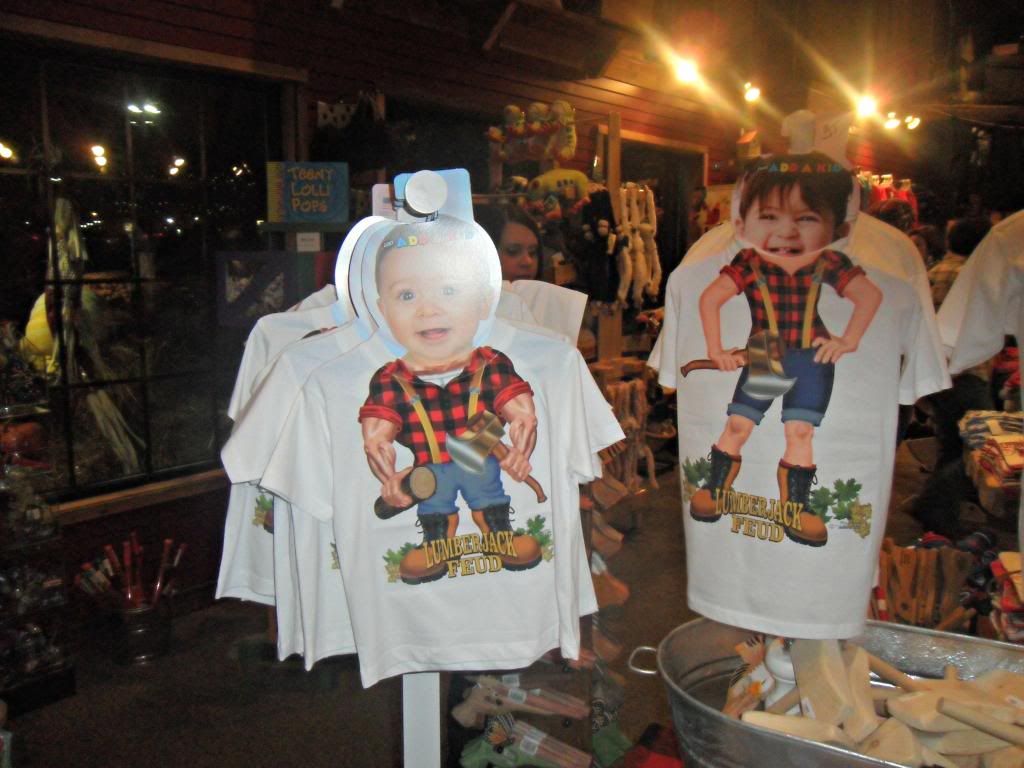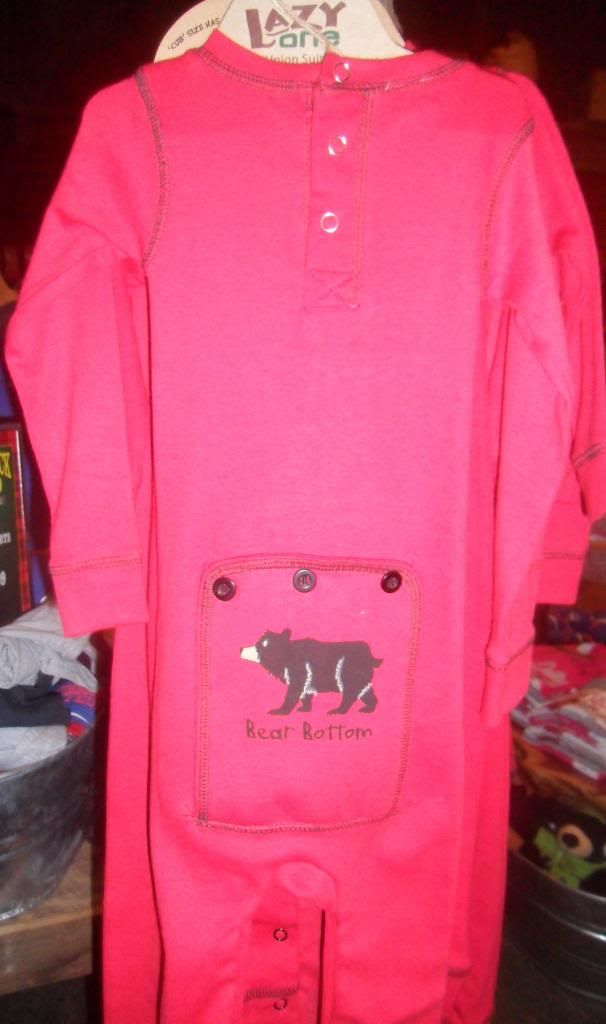 As we were being asked our drink orders (did I mention that Lumberjack Feud is also a dinner show?) a black bear came out and harassed us. This is the mountains of Tennessee after all.
They served us our food and it was delicious. I loved how it was in hard plastic containers for less waste. Pork, chicken, beans, mac n cheese, biscuits, AND we got dessert.  They also have BBQ ribs on most nights.  While we were waiting to be served, I was checking out Lumberjack Feud on Facebook. You can see some fantastic pictures of the show on there.
I think my husband would have loved to be there with me. He loves the strongman competitions and stuff like that. I bet he would have a blast at Lumberjack Feud. It truly is fun for the whole family. The events centered around the fact that the president said that logging would not commence in the TN mountains.  The families said they would have a lumberjack competition because the mountain was only big enough for one family and thus the events begin with the Dawson family vs the McGraw family.
I think Camper Bob is probably my favorite person of the whole show. He was such a cutie that all the ladies kept flirting with him before the show. He played so many parts. He was incredibly talented as well. I could not believe the stunts he was pulling at the very top of a big pole.
He is standing on his head at the top of a pole! Can we say wow?
I think the thing I liked the most about the show is that they gave cookies (clean cut log circles) to the audience for each win on each side. They always picked a child to give the cookie to and I think that is really awesome. All the kids would get really excited each time the Lumber Jills had to pick a winner and go crazy! In fact every event the audience would get so keyed up cheering their side on that I was actually a little hoarse when we went home!
This was our side. Can you see why I was getting hot? All the ladies were screaming their heads off for these guys and gals. And our side won! After the show they stay on the stage and let people come up and get their autographs and take photos. I had to battle a bunch of kids but I got in there for a photo with Summer from Banana Hammocks and Tutus.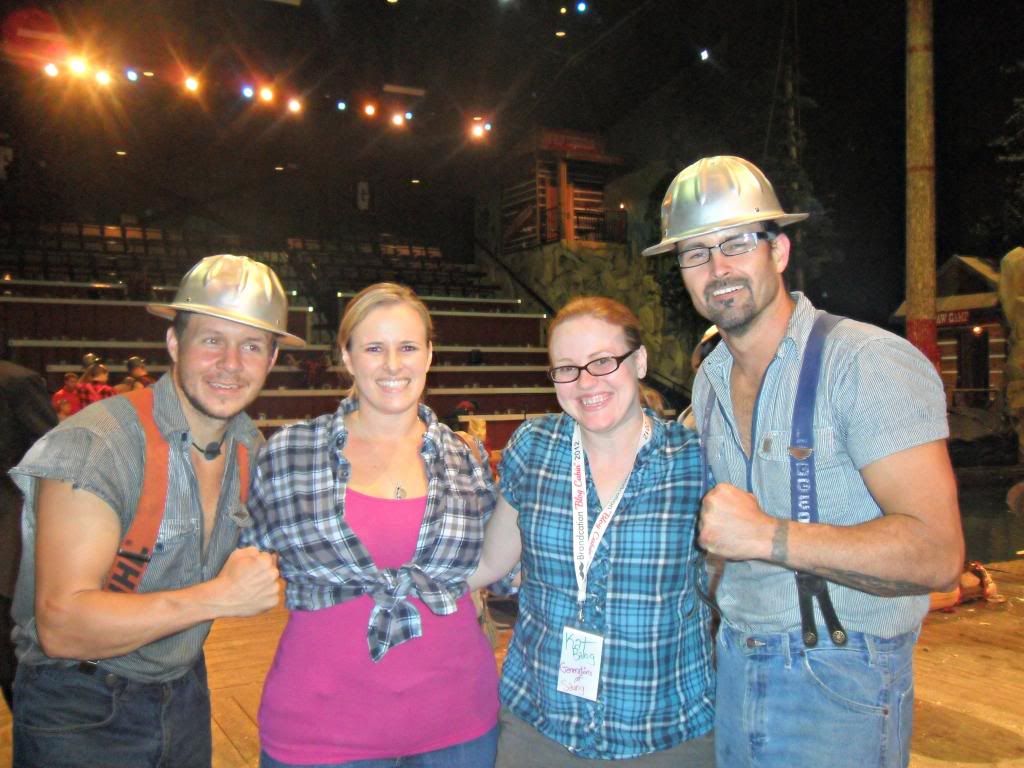 Then we took a group photo and I was standing behind  everyone. I still had some lumberjacks standing behind me though so I was like, oh my god look at my hair!  She had to take several photos because some of the ladies kept looking at the lumberjacks instead of the camera.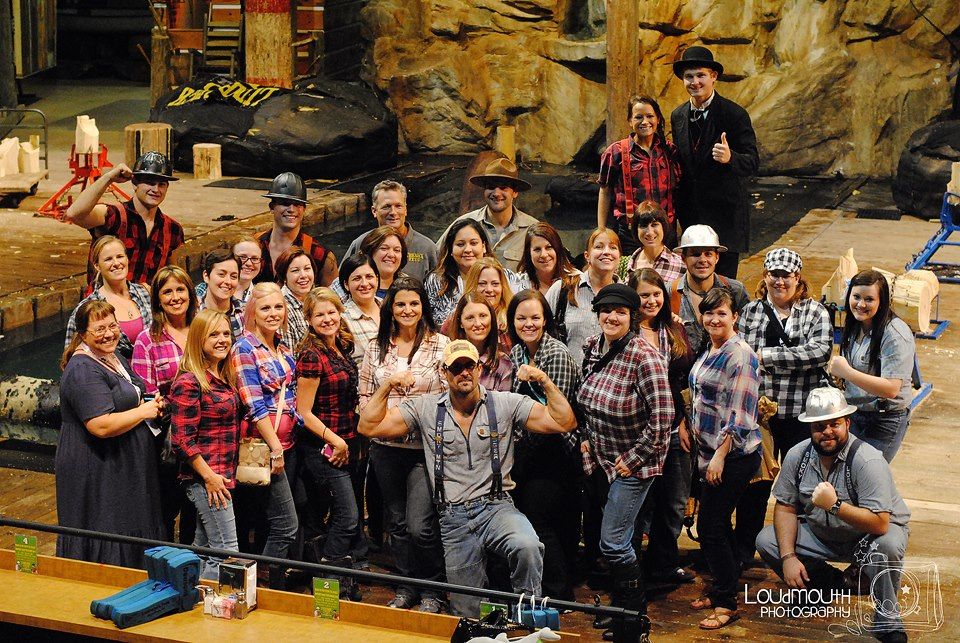 You can also check out Lumberjack Feud on Twitter and Youtube. Here is their national commerical from their Youtube page. If you are ever in Pigeon Forge stop by and go to the Lumberjack Feud dinner show!