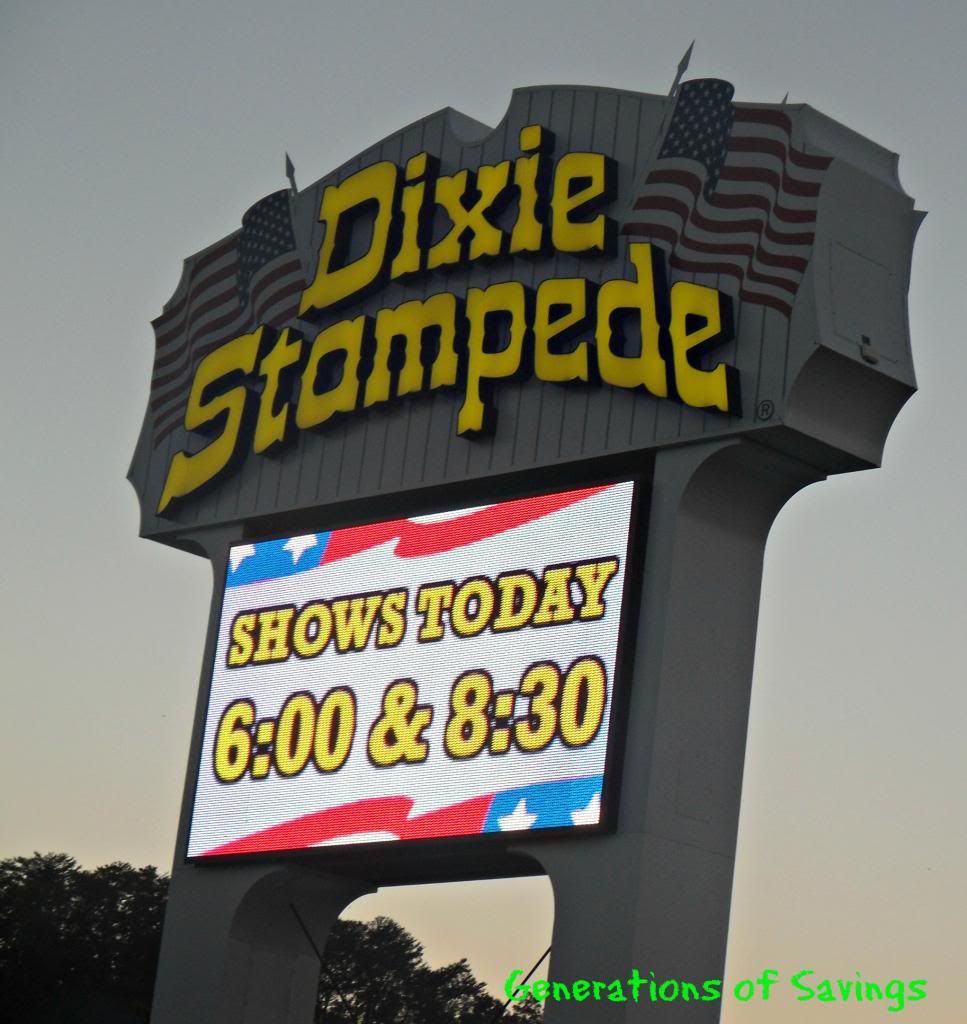 I saw a huge sign heading down the strip when I was going to my cabin for Brandcation.  It was for Dixie Stampede. I got really excited becuase I knew that was on our list of things to do. It looked like an awesome dinner show!  I checked them out on their Facebook page and on their Twitter and I knew I was in for a treat!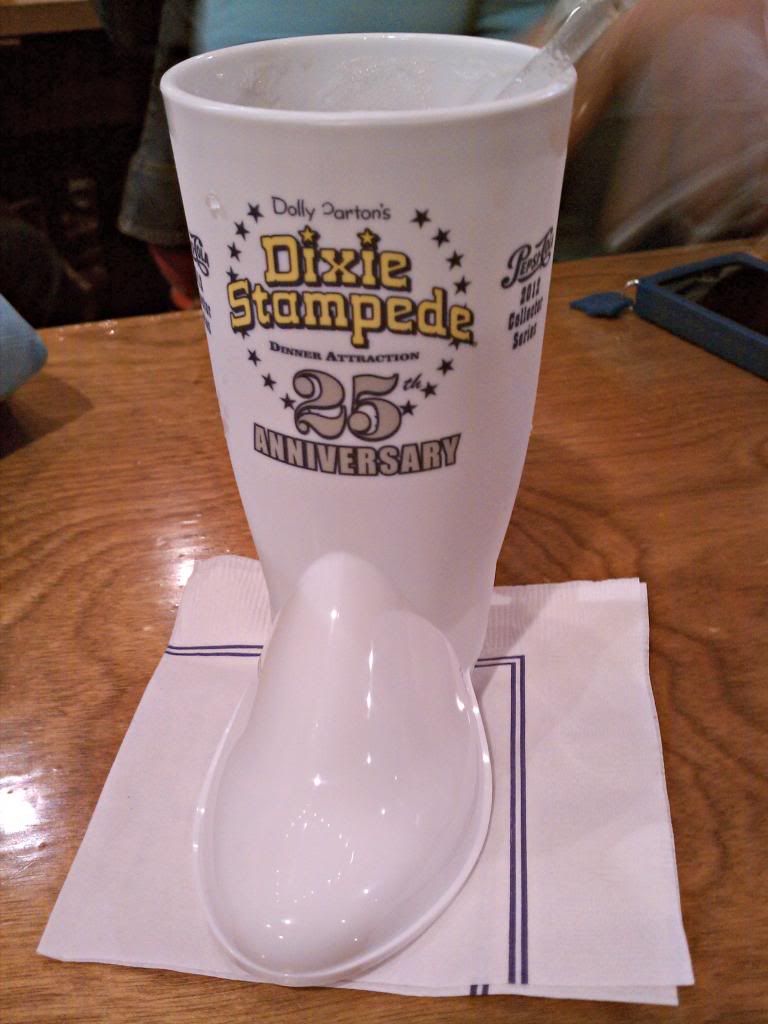 They escorted us in and everyone was wearing period clothes. They were so very kind to us. I love the PR person, she was so likeable just from first handshake. After we got in and took our photo, we got to sit down on bench type seats. I loved the saloon girls who got our drink orders. They even danced to the music. All the drinks come in these souvenir mugs.  Then we listened to bluegrass music from a great and very funny band.
They put a roll of toilet paper on the fan to cover up one of the players. Everyone in the room cracked up.
After we listened to the awesome bluegrass guys, we went in to the auditorium and found our seats. We were actually really close on row F. All of the seats already had a mason jar, plate, and bowl.
I know you can barely read that but our dinner menu was on our napkins. Isnt that cute? We got a whole chicken, slice of pork loin, corn on the cob, herb crusted potato, vegetable soup, cheese biscuit, and an apple pastry type dessert. No silverware.

I was stuffed. It was weird to eat with my hands but I was too busy watching the awesome dinner show anyways. I didnt take many picture of the show because the horses were moving too fast but let me tell you, it was very cool. They had events. We were the North and the other side of the arena was the South. We were in a battle. Our horses and riders wore blue and the South's side wore red. They were beautiful and spangly. All the riders were amazing and you could tell that the horses were well taken care of. I usually hate events that have animals because I worry about what happens behind the stage but these horses looked great.  They held several 'competitions' some of which the audience got to help with and eventually they decided the winner.  Every single event was funny and I could tell the children on the row in front of me were completely enthralled by the show.

They talked a lot about Dolly's reading program Imagination Library. During one of the games, they invited kids from the audience to help them and as a reward they gave them books. As an avid reader who thinks that books are the reason I did so well in school, I think this is amazing and kinda sad. Its sad that we have to have celebrity help to get our kids to read. Its sad that so many school don t have money for books. Sorry, I will get off my soapbox. When we went to Walmart in Pigeon Forge, we saw this going to the store and it made me think of Dolly's broadcast during the end of the Dixie Stampede.
As we were leaving, we saw this picture of Dolly up on the wall thanking us for visiting her Dixie Stampede.  It was my pleasure Dolly. My pleasure indeed.