Being from Alabama I hear about people going to Pigeon Forge, TN all the time. I have never been myself though. I finally got the chance to go with Brandcation #4. I have always wanted to be a travel blogger and now I finally got the chance to do some traveling, going to events, and getting to blog about it.  While we were at Brandcation, we were showered with great swag, great sponsors, and love from Pigeon Forge, TN!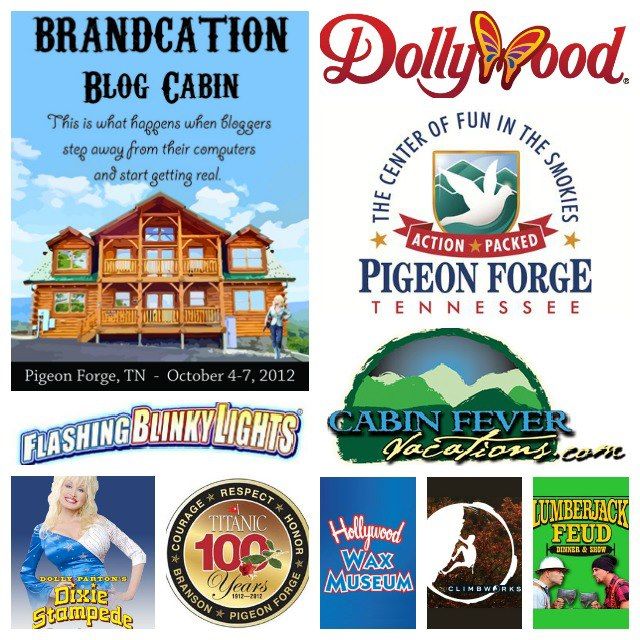 Brandcation #4 Sponsors
Cabin Fever Vacations
http://www.cabinfevervacations.com
Dollywood
Dixie Stampede
Flashing Blinky Lights
http://www.flashingblinkylights.com
Titanic Museum
http://www.titanicpigeonforge.com/
Climb Works
http://www.climbworkscanopy.com/
Hollywood Wax Museum
http://www.hollywoodwaxmuseum.com/pigeonforge/
Lumberjack Feud
http://www.lumberjackfeud.com/
Tennesse Board of Tourism
Swag Sponsors
Natures One http://naturesone.com  They had samples of Pedia Smart for us!
Cascade Ice Water http://www.cascadeicewater.com/  I didnt drink any of the mixers or flavored water but I liked the plain water just fine!
K'Nex Tinker Toys and Lincoln Logs http://www.knex.com/   My sons love these. They play with them all the time now!
StoreSmart http://www.StoreSMART.com  I havent opened mine yet but its a cool plastic folder kit to start out!
Lou Babs & Moogs http://www.LBMGifts.com  Flying Wish Paper for the win!
Blingles http://www.myblingles.com/  I didnt get one of these since I dont have girls but they were really cute stick on things for your cell phone
The Trash Pack http://www.trashpack.com/   My kids are still fighting over the Trashpack  kid. Its a squishy monster thing in a garbage can but apparently boys love them!
Sportline Pedometers http://www.sportline.com/   I got over 20000 steps the day we went to Dollywood on my pedometer
Group Gifting http://www.groupgifting.com/ They currently carry eGift Cards from over 40 national brands. They gave us a $10 Gap eGift card.
Orbeez http://www.orbeezone.com/  If you have never seen these, you need to check them out!
Fab Kids http://fabkids.com  Again with the not having girls but they put together an outfit for your child each month. There is no obligation to buy if you don't like your outfit. From what I have seen though, I am sure you would!
There were several other sponsors there that were personal sponsors of some of the ladies.
Carpet One Floor & Home www.CarpetOne.com  They gave us cool rugs and a tiger and then gave away several big rugs. i didnt win one though 🙁
Mom Agenda – Awesome calendar  in a stylish snakeskin pattern. I am definitely putting this to good use!
Dolphin Organics – They stocked all the bathrooms in the cabins with shampoo, body wash, and lotion!
Rayovac On-The-Go Charger– They gave us awesome charger things that can hook up to Apple products, Droids, and have a regular USB.
Party City Bracelets – cool friendship bracelets for our 80's party
Boogie Wipes– I love these things. They are seriously amazing.
Thank you to all the sponsors who made my time in Pigeon Forge amazing! We all appreciate you so much! My children loved the stuff I brought home and I loved every minute I spent on my trip thanks to these great sponsors!