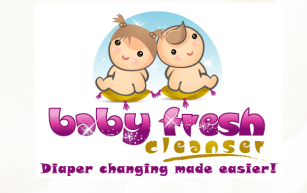 I was recently sent a great product from Bebe Bottom Skincare to try out with Baby E. For such a little thing, he poops. A lot. He wiggles around, he tries to 'help', and he tries to run away when I change it.  Fortunately, I am a master mommy and can deal with it but poor Big E. He doesnt have as much practice as I do and he gets really frustrated at changing dirty diapers. Bebe Bottom Skincare is actually formed by a mom so she knows what she is doing when it come to baby care.  They sent me the Baby Fresh Cleanser to try out pictured below.
It is really easy to use. I think its great because it helps reduce the bacteria that causes odor and diaper rash. You just spray it on before you start wiping and leave it for 10 or so seconds. Then you start wiping. It helps get everything off and keep the smell down while you are cleaning them. Big E thinks its great and always uses it. I think he likes it the most because it keeps the smell down. He has a bit of a sensitive nose and always gags when he is changing dirty diapers. Dont tell him I told on him though, he thinks it unmanly. It leaves a protective barrier on the baby's skin which I am sure that Baby E will appreciate us for one day.
You can check out Bebe Bottom Skincare on their website and on Facebook to keep up with great product news and promotions!   Keep an eye on Generations of Savings because I will be having a giveaway featuring Baby Fresh Cleanser starting on the 10th!
I received this product as part of a Karma Media campaign.  As always, all opinions are my own.