With two boys, I am always on the lookout for toys that I know are going to be around for a long time. I also love toys that remind me of my childhood. Those are just two reasons why I got so excited when I found Wooden Toddler Toys. This company has so many items that I can spend my money on and not worry that they won't be around after just a month. They even have furniture that is super sturdy!
Some of my favorite items from the site include Puzzle Name Letter Personalized Wooden 2-tier Step Stool, which will be great when Little E starts brushing his own teeth. Another favorite is the Deluxe Activity Play Cube (which is actually one of the prizes being given away!) because it's something that I played with as a child. It's so durable, that I wouldn't be surprised if Little E was able to keep it for his kids.

Even better, your child won't get bored so quickly because there are basically 5 toys in one: It includes a roller coaster express, pathfinder, abacus, fun gears, and learn the alphabet!
The second item being given away in our Back to School Bash Event is the Table Top Easel.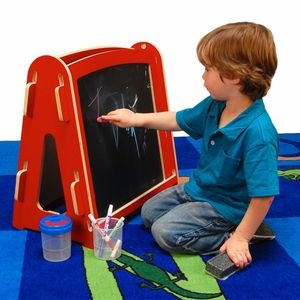 I really love this item because both of my kids will have so much fun playing with it. It has a dry erase board, a chalk board, and a dowel that holds 18" easel paper (one roll is even included!). Both of my kids will be painting and drawing and I won't have to worry about them breaking the easel because of the quality of the wood.
You can check out Wooden Toddler Toys on Facebook!