My son's school has always had great contests for Box Tops for Education. I remember when he first went to a public school in 2007 and he was so surprised at the amount of things they were supposed to sell or do fundraisers for.  He didnt like it at all. The only thing he liked was the Box Tops Collection because with a huge family like ours, he was always one of the top contributers in his class. Box Tops are found on sooo many products, you have probably thrown away a billion of them and didnt realize it if you dont have kids in school. You can help so much by just clipping those off and saving them. Give them to a neighbor if you dont have kids. Check out Boxtops4education to find out more about the Box Tops for Education program and how you can help support your local school. You can also find them on Facebook.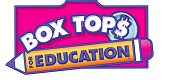 Right now, you can find great savings on Box Tops products including Big G cereal, Betty Crocker Fruit Flavored Snacks, Pillsbury Crescent Rolls, and many other great products at Winn-Dixie stores.  You can also check out Winn-Dixie on Facebook as well. I buy the Betty Crocker snacks all the time for Little M and I can think of five recipes I make off the top of my head that I use the Pillsbury Crescent Rolls in.  So you can tell that we use a lot of Box Tops products in our house.  Winn Dixie also always has a great Buy This and get This Free deal.  I did two on Saturday. One was Buy a bookbag and get nine school supply items for free. The other was buy two Red Baron pizzas and get a 7-Up 2 liter (we got a&w rootbeer), a thing of garlic bread, and a bag of frozen chicken nuggets for free.  So I got all that and a 20 ox Mtn Dew for less than 25 dollars.
Winn Dixie also has a promotion that when you buy 5 participating Box Tops items at Winn Dixie, you save 10 cents per gallon on gas AND get 20 Bonus Box Tops. I love the Fuel Perks program. I get money to save on gas by buying what I need anyways? Great, sign me up!
Right now you can win a $25 Winn-Dixie Giftcard from Generations of Savings.  Just enter on the Rafflecoptor form below. This giveaway will run until 8/20 at 10:59 PM CST.
The information and gift cards have been provided by Winn Dixie and General Mills through MyBlogSpark.