Content and/or other value provided by our partner, Quaker.
I have to say right off the bat that I love Quaker. I was escatic when I received a box full of Quaker items for my family and I. Quaker Oatmeal Apples and Cinnamon is my all time favorite snack in the middle of the night food. I could probably own stock in the company, I have bought so many packs! Quaker has came out with seven new products recently and I was lucky enough to get to try them!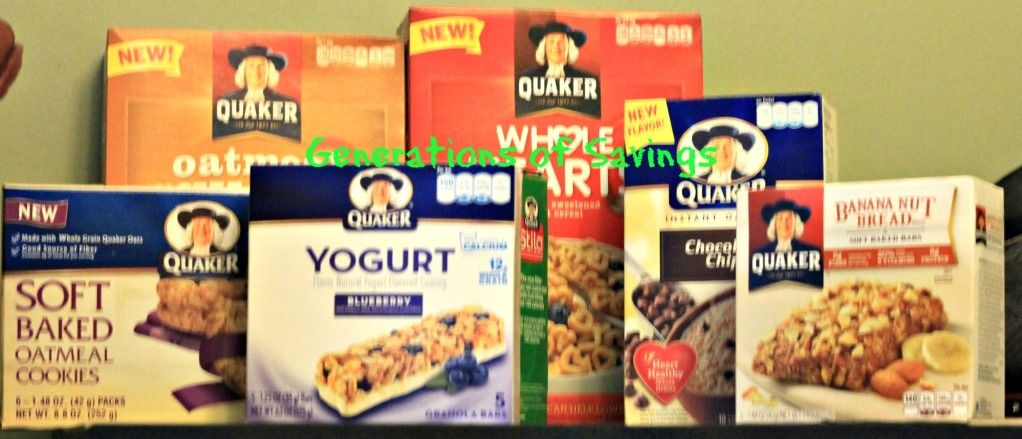 Doesnt that all look so good? I was so looking forward to the chocolate chip oatmeal and the yogurt bars. I had to eat quick so my husband and children didnt snatch it all from me!
Quaker Chocolate Chip Instant Oatmeal
The first thing I tried was the Chocolate Chip Instant Oatmeal. I was a bit worried it would taste too sweet but it didnt. It was just warm and gooey like my grandmother always made it. It is only 130 calories with heart healthy whole grains! My husband didnt like it but both of the kids did. They liked it so much I only got to eat one bowl before the whole box was gone.
Quaker Whole Hearts Oat Cereal
Quaker Whole Hearts cereal contains 14g of heart-healthy whole oats, 3g of total fiber, and only 6g of sugar. I think they are adorable and tasty. Only 110 calories per serving and I read on the box that it can help lower cholesterol so that is good! My mom has super high cholesterol so I recommended this to her.  My sons like this one as well.
Quaker Oatmeal Squares Crunchy Oat Cereal

My favorite types of cereal have always had a honey-nut coating or a lightly sweetened taste. The Quaker Oatmeal Squares cereal is available in Honey-Nut, Brown Sugar, Cinnamon, and Golden Maple.  It has 46g of whole grains, 5g of fiber and 6g of protein!  It is perfect for those kids who like the sugary cereals. They wont even know they are eating a cereal that is super good for them!
Quaker Banana Nut Bread Soft Baked Bars
5 grams of fiber and 6 grams of protein! Count me in. My son and father both need more fiber in their diets. I sent half of these to work with my diabetic father so that he could snack healthy. He loved them! They are only 140 calories and I dont have to worry about my dad eating sugar or salty chips at work when I know he has something healthy like this. They have crunchy almonds, real bananas and whole grain Quaker oats. In addition, the Banana Nut Bread flavor makes this a hit in my house!  They also come in Cinnamon Bun flavor!
Quaker Stila Bars and Oat Cluster Bits

I wasn't fond of these Stila Bars. I had the strawberry kind and I guess I am just a plain jane but they were sweet and I kinda wanted tangy.  My children LOVED them. In fact, my friend's 3 year old son and Baby E actually fought over the last one of these.  I think I am going to try a different flavor because I love the texture of it and the outside, I just didnt like the filing.  They come in Strawberry, Apples & Cinnamon, Blueberry for the bars. The Oat Cluster Bits come in Strawberry, Cranberry & Yogurt, and Green Apple. I am betting I would love the Green Apple especially since these are 100 calories or less!
Quaker Yogurt Granola Bars

12 grams of whole grains as well as being a good source of calcium makes the Quaker Yogurt Granola Bars my kind of snack. They are crunchy on top but soft and sweet on the bottom. They also come in Vanilla and Strawberry but I think the Blueberry will always be my favorite. They are also only 150 calories a bar so I could eat one of these on break at work and feel full.
Quaker Soft Baked Oatmeal Cookies
I think the Quaker Soft Baked Oatmeal Cookies were easily my favorite snack out of everything I received. I love oatmeal cookies and these were just so tasty! 170 calories a cookie and they were big cookies! They come in different flavors other than Oatmeal Raison including Apple Cinnamon, Banana Nut, Cranberry & Yogurt, Raisins and Chocolate Almond.
I was happy with all of the new products that Quaker sent me and I have already gotten some of them again for my family. They run through snacks pretty quickly!  Most of these snacks are available at your local grocery store and if they arent yet, they will be soon! For more information about these products and more please visit Quaker Oats or you can like Quaker on Facebook.