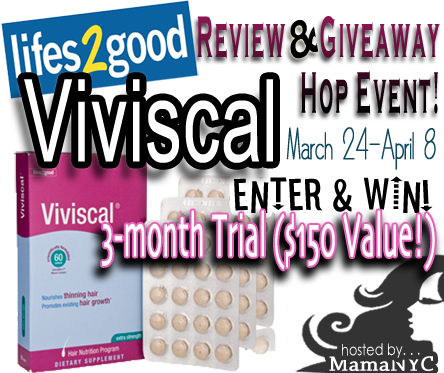 Welcome to the
Viviscal Review & Giveaway Hop Event
! This event is hosted by the fabulous
MamaNYC
. It will run for 3+ months and follow 25 bloggers as they experience hair growth, nourishment, repair, and damage control with Viviscal!
I am super excited to be a part of this great group of bloggers! I practically leaped on the chance to review & giveaway Viviscal. I started taking the pills the day I received them and I am so excited to get some results! I took some before pictures and I am going to try to take some pictures each week for this review. I had really pretty, thick hair during each pregnancy but after having Baby E, my hair started falling out. In clumps. It was awful. Now its so very thin and not very shiny. So I really hope Viviscal can help me get my thick, shiny hair back! I will be posting again in June with my results so I hope you will see a bunch of pictures of me smiling with my hair down (I never wear it down anymore)!
I will be taking two pills a day provided by Viviscal in order to complete my review. I have heard some really awesome things about Viviscal and I think it is going to be GREAT! I read a really awesome review on it just yesterday so I am getting excited! I have been taking the pills for just a couple of days but I swear I can already feel it helping. My hair feels softer and it actually looks better. Kind of like how your hair looks after you condition it but I dont use conditioner because my hair is so fine, it makes it look greasy.
This giveaway is going to run from March 24th through April 8, 2012 at 11:01PM CST. One lucky winner (from each blog) is also going to receive a 3-month trial of Viviscal hair supplements ($150 value!). Open to residents in the U.S. only; 18+.
*NOTICE: You have 25 chances to win. Just 'HOP' down the Linky list and enter on each blog. 25 bloggers are each hosting a giveaway for a 3-month trial of Viviscal. You will only be eligible to win on ONE of our blog giveaways. The more you enter, the better your chances to win! Once you are selected as a winner from one of these blogs, you will receive a winning email and you will be all set to receive your prize!