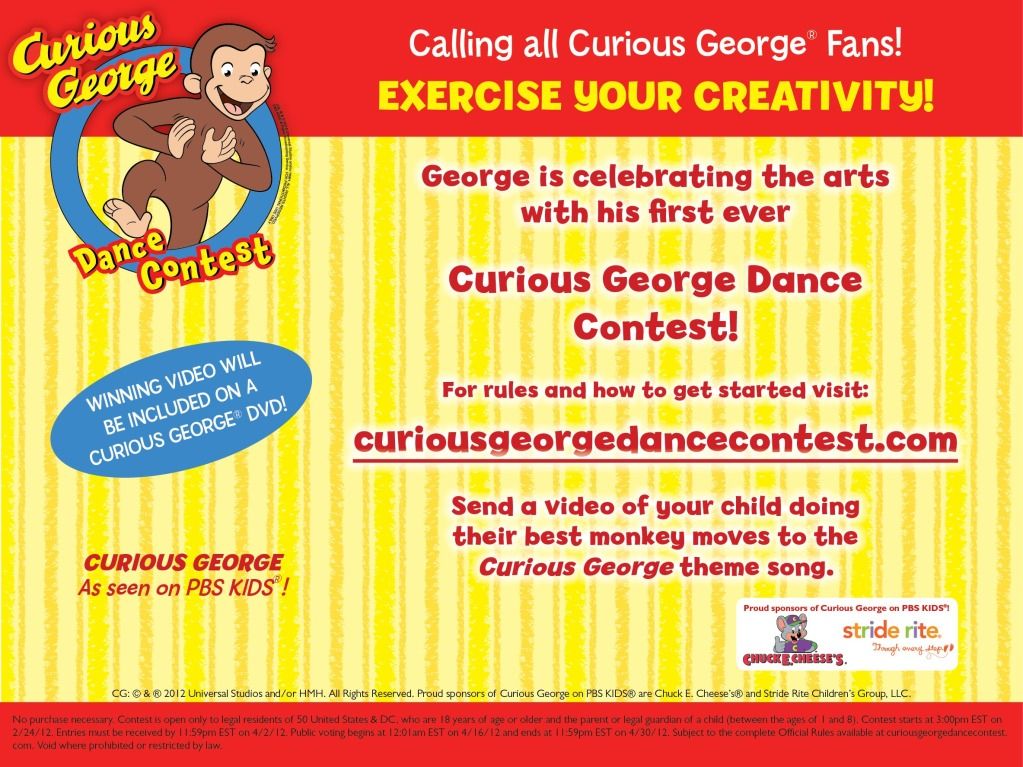 Do you have a child who adores music and dancing? I do. I have a ham who is constantly vying for time in front of the camera, singing songs, jumping around, anything he can do to get a laugh. He loves movies and shows that have a great theme song and then he will sing them to me often. Very often. Like to the point I now know the words to all the theme songs or could hum them in my sleep.  I encourage it though because I feel that dance is a great form of art and its fun for children. Its beautiful, fun, and it helps children get exercise in a fun and engaging way. It can also help with sleep patterns and social skills in my opinion from raising two children. I have never met a child who didnt like to dance but sadly, without outside encouragement most children would rather sit around and play video games. I think that children need movies, games, and tv shows that stimulate their brains and their bodies. I am glad that there are still great shows out there like Curious George who encourage free thought, exercise, and creativity. I have always loved Curious George. We used to read him all the time when I was a child and I love the show almost as much as my children. Right now, Curious George (which airs on PBS Kids) is celebrating the arts with a Dance Contest.
The Curious George Dance Contest will be accepting entries until April 2nd. To enter you can record a video of your child dancing away to the Curious George theme song and submit it HERE. You can also find a video with the theme song for your child to dance to at that web address. A panel of judges will be choosing 10 finalists based on their creativity, enthusiasm, and originality. Then there will be a public vote between April 16 – 30. All finalists will receive a Curiosity Kit, filled with a Curious George book, game, DVD, and other fun George merchandise which is pretty sweet for just filming your child having fun (I don't know about you but I do that anyway). You could even win a visit from Curious George himself! The contest is open to children up to 8 years old!
My sweet baby is too young to dance on command (I tried) and my other baby is now too old which is something I never though I would say. He really wanted to do it though when I told him about it!  I am going to keep trying with Baby E though! I want to meet Curious George myself. I wish they would accept a video of me dancing to the theme song. Good luck to everyone who enters! Let me know if you do and I will send special vibes for you!
This post was sponsored in collaboration with Latina Bloggers Connect and WGBH. As always, all opinions are my own. All Curious George Photos belong to CG (R) & (C) 2012 Universal Studios and/or HMH. All Rights Reserved. FOR PROMOTIONAL USE ONLY.