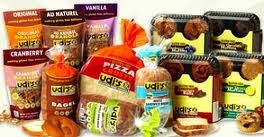 All the time I am asked if I know any gluten free recipes from people at work. I realized that I don't post gluten free and dairy free recipes enough on here. So many people have some sort of food allergy now. Some people don't even realize that they do have a food allergy and just deal with headaches or skin breakouts not knowing its all from the things they eat.  If you had asked me last year to eat something 'gluten free', I would have thought that was something gross and told you no way. Earlier this year though, I was asked by Udi's Gluten Free Products to review a box of their awesome hotdog and hamburger buns. They surprised me by including some delicious cookies and brownies. They also have some great gluten free recipes on their site.
As you can it was pretty awesome. You can see my review here. A few weeks ago, they sent me some free Udi's Gluten Free product coupons. I thought that was awesome so that we could get some delicious gluten free rolls for Thanksgiving. I had no idea that Udi's made so many products until I went searching to use my coupons. You can check out these amazing looking rolls and tell me you wouldn't be excited to find some! Their products arent just gluten free, some of them are dairy free, nut free, etc. They are perfect for people with food allergies. They are perfect for people who just like tasty foods and want to know that their family is eating healthy.
They even have a coupon on their website now for $1.00 off! Go print it now and save it for your next shopping trip!
Right now I am giving away 3 Udi's Gluten Free coupons good for any Udi's Gluten Free product for free! Just enter on the form below. This giveaway will run until 12/4 at 10:59 pm CST.