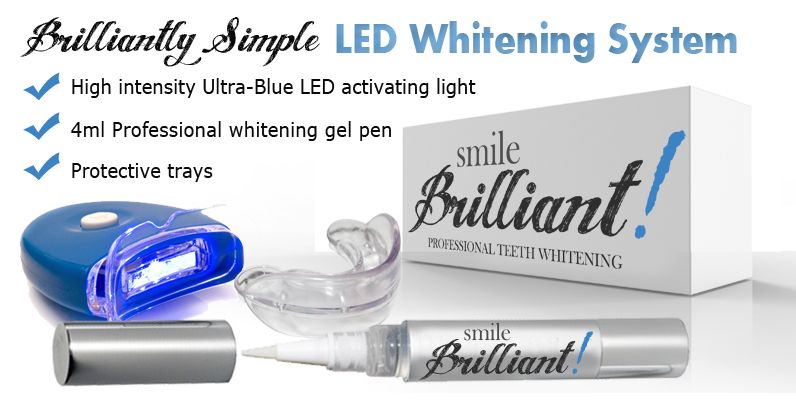 I absolutely hate my teeth. If I could pick anything about me to change, it would be my teeth.  I love lemons and I have eaten tons of them in my life. Well, apparently that is bad as I found out when I went to the dentist with pains in my back teeth. He told me I didn't have cavities but that I have managed to eat all the enamel off my teeth. So they constantly look yellow.  Plus, I have drank sweet tea all my life and I am sure that doesn't help with the discoloration.  I was elated when I heard about a chance to do a Smile Brilliant review!  They have an amazing selection of teeth whitening products on their website. And they are letting me offer my readers a 20 percent off code pictured below!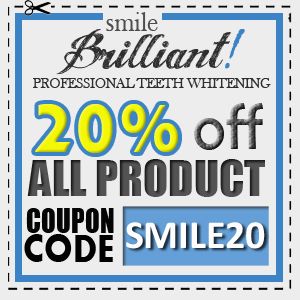 It was amazingly easy to use.  All you have to do is use the whitening pen to apply the whitening solution to your teeth. Then you put the mouth guard in which is soft and flexible so it fits all mouth types. After that you put the LED light in between your lips and turn it on. You can leave it in for 30 min to 2 hours. I did 30 minutes for the first time but I never experienced any sensitivity in my teeth or gums which is surprising because I have tried whitening products before and they have always made my gums burn.  I could see a difference in just a couple of days of using it. I have been using it for over 3 weeks now and I have never had whiter teeth.  My coworker even mentioned it to me the other day that I had such a nice smile and she was surprised because I don't usually smile so big due to being so self-conscious about my smile. Here is a crazy picture of me using it.  Ignore the hair please, it was early morning.
You can check out Smile Brilliant on their >Facebook page. You can also register for their >promotions page for more information on giveaways, coupons, and product promotions!