Sibu Beauty has several great holiday gift sets this 2012 season.  You can find something for everyone! I love the Sibu Beauty brand and I use a ton of their stuff on a regular basis. In fact I was just using my Sibu Beauty Purifying Face Mask last night.
One of the great Sibu Beauty Holiday Gift Sets that I was sent to try out is the Total Beauty Gift Set.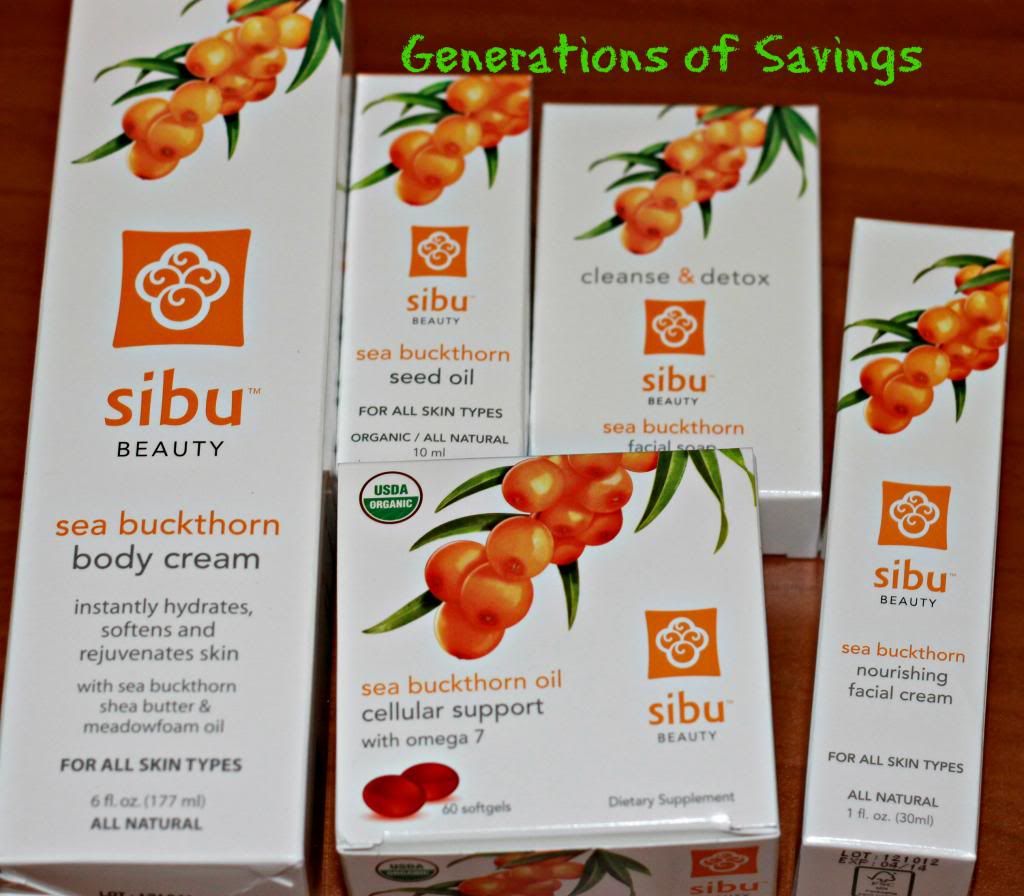 The Sibu Beauty Total Beauty Gift Set includes the Inside-Out Duo of Omega 7 Cellular Support Gel Caps and Repair & Protect Nourishing Facial Cream along with the complexion-focused Cleanse & Detox Bar, Nourishing Body Cream and USDA Organic 100% Sea Buckthorn Seed Oil. So it is a day and night set that is great for anyone on your list.  I actually already owned the Repair & Protect Nourishing Facial Cream and I use it all the time! It makes my skin feel so soft and it doesnt smell like chemicals like many facial creams I have seen.   The Omega 7 Cellular Support Gel Caps can be taken daily to improve skin/hair/nail tone and texture and support numerous internal functions including healthier cholesterol levels, improved cardiovascular, gastrointestinal and urogenital systems. It is amazing that one little pill can do so much!  The naturally-healing properties of the sea buckthorn berry Seed Oil works to impart the right amount of moisture into skin, combat the signs of aging, and help diminish irritations and skin conditions including redness and acne so you can rub some on your face at night after washing with the Cleanse & Detox Bar.  I have already had to fight my mother to keep my Seed Oil since she tried it and loved it so much!
If you are looking for a great gift for a man in your life, check out the Sibu Beauty Men's Shaving Kit gift set.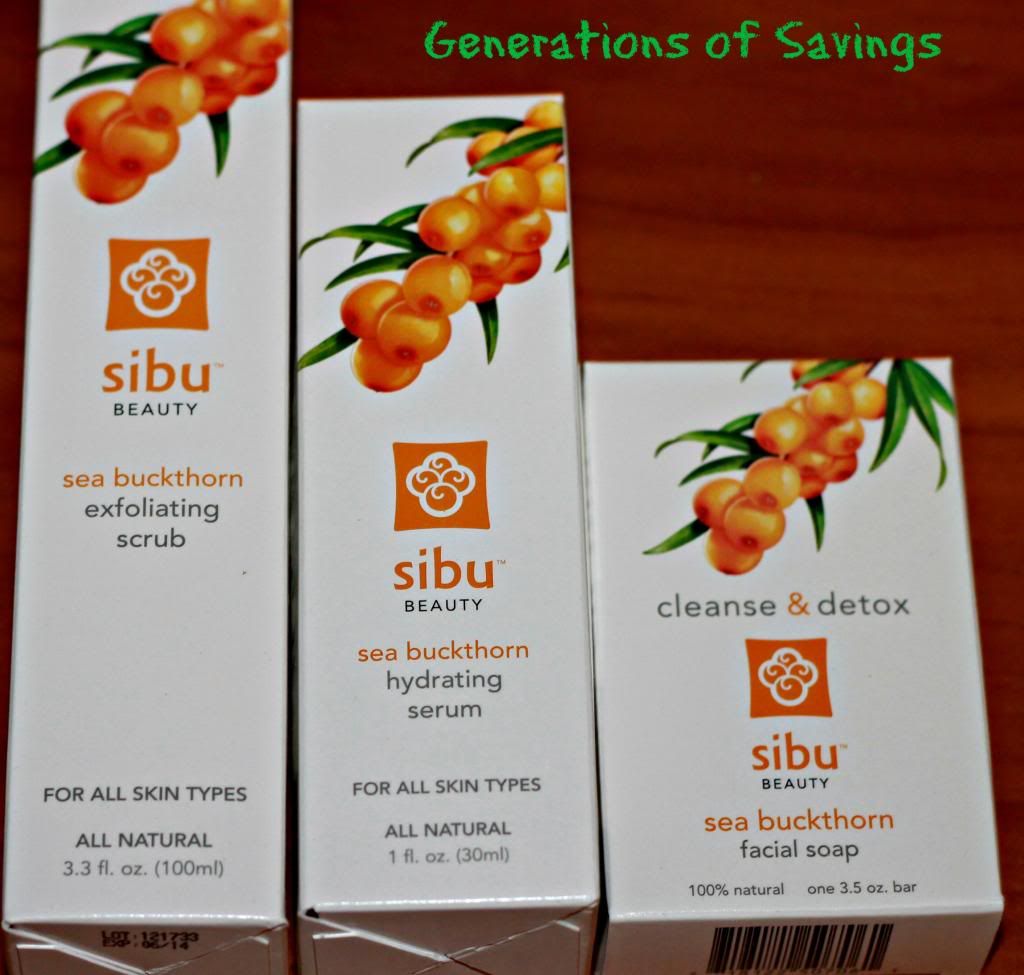 The Men's Shaving Kit comes with all three steps that a man needs for a great shave!
Step 1: Prepare – Exfoliating Scrub – Recommended for use 1 to 2 times a week. The gentle and soothing formulation removes dead skin cells, environmental toxins and helps prevent ingrown hairs for a cleaner, closer shave.
Step 2: Shave – Cleanse & Detox Bar – The thick, creamy lather provides a chemical-free shave that soothes, cleans, conditions and also helps to revitalize and promote healthy tissue recovery.
Step 3: Protect – Hydrating Serum – A soothing, no-sting aftershave that imparts healing nutrients to the surface and deep into underlying layers of skin. The natural antimicrobial properties of the sea buckthorn berry keep skin clean, fresh and hydrated without leaving an oily residue.
I have to admit I did not use the Men's Shaving Kit as I am a woman. I did give them to my dad to try out as part of his Christmas present.  He is not a frequent shaver so this was really good for him to keep his skin healthy before and after shaving.  He said the aftershave is very great! Some aftershaves are very harsh on the skin but this one didn't burn at all.
The last great Holiday Gift Set that Sibu sent me was the Inside-Out Duo gift set.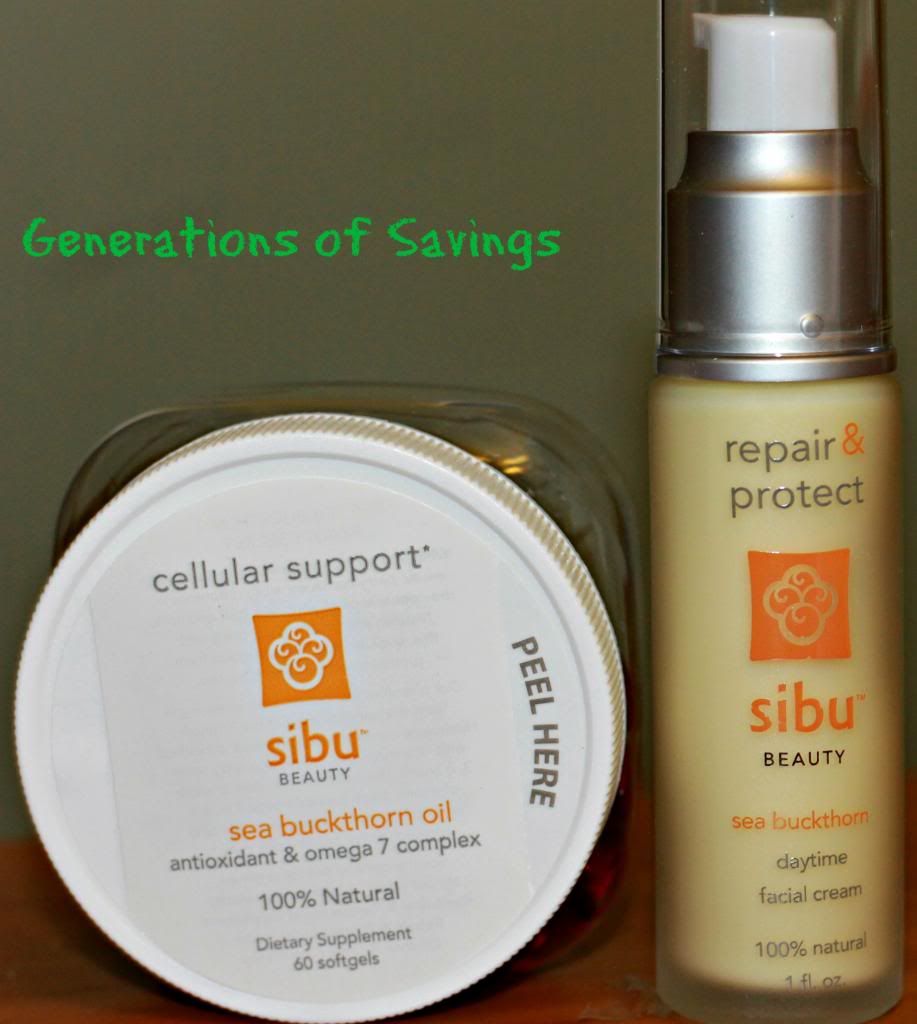 The Inside-Out Duo is aptly named for the fact that it takes care of you inside and out. It includes the Sibu Beauty Omega 7 Cellular Support Gel Caps and the Sibu Beauty Nourishing Facial Cream. Both products are great for your complexion and skin tone. I know I already talked about how great the Omega 7 gel caps are above but I also wanted to mention that they could help you lose weight. The Nourishing Facial Cream has a smooth, rapidly absorbed treatment that creates a protective barrier against wrinkle-causing free radicals. So like I said, you are being protected inside and out with this great gift set!