This post is sponsored by Sivan Social to talk about how awesome gifts at Redbubble are. All comments and opinions are my own.
I have no marketable skills. Its true. I am often envious of my friends with their talents. They are all amazing and I appreciate that they share their skills with me. I do know that artists are not appreciated enough and its hard to find places to sell that don't take a ton in commission or cost a ton just to promote. Did you know that Redbubble gives independent artists a meaningful new way to sell their creations? They have over 700,000 artists and designers who sell items on their site, and they have a huge variety of products! Several of my friends sell on there and I am happy they have an avenue to share their glorious, nerdy ideas to more than just me.
I love Redbubble because they say they have, "Gifts for any interest. Designed and sold by artists." That's amazing to me. It reminds me of Con Nooga's slogan which is, "It's YOUR con!" Everyone has their thing they love. We all have different interests and I really enjoy that you can get gifts at Redbubble because they have artists who create for everything even not well known media. My family has vastly different tastes but I always joke that we are all dorks in our own way.
My husband chose a shirt with a Sharpe's Rifle's quote and picture. If you have never heard of that, you are not alone. Sharpe's Rifles is the first of the Sharpe television dramas, based on Bernard Cornwell's 1988 novel of the same name. There are numerous novels and numerous television adaptations of the novels. My husband loves them. Sean Bean stars in the adaptations. Until I shopped for gifts on Redbubble, I have never seen anything anywhere showing merchandise for it.
My oldest son didn't want a shirt. He wanted a mask. He loves Naruto. Let me say that again. He LOVES Naruto. He chose a Paper Bomb design. I have never seen or read Naruto so I don't know the significance. Its a pretty popular series which is coming back into style because even my little ones like it. I am more into My Hero Academia. He loves his new mask though.
I have a lot of loves. I try to share them with anyone who will listen. I discovered The Magnus Archives a few years ago and I am so sad that it is over. Rusty Quill is still making podcasts but TMA is done. For now at least. I chose this cool t-shirt showing the entities and the words, "I was there at the end – The Magnus Archives 2016-2021." And most people have never heard of it so I will probably never find any merch at big box stores or things like that. That is why I appreciate Redbubble even more. I want to show my love proudly for each of my nerdy things.
Redbubble is the best place to find merch for all your interests. The best place for getting gifts for anyone on your list. And yourself! And they have all types of media. You can get stickers, notebooks, t-shirts, mousepads, etc. Whatever you need to show your geek side proudly! Just check out me and my boys, different interests but still nerding out as a family.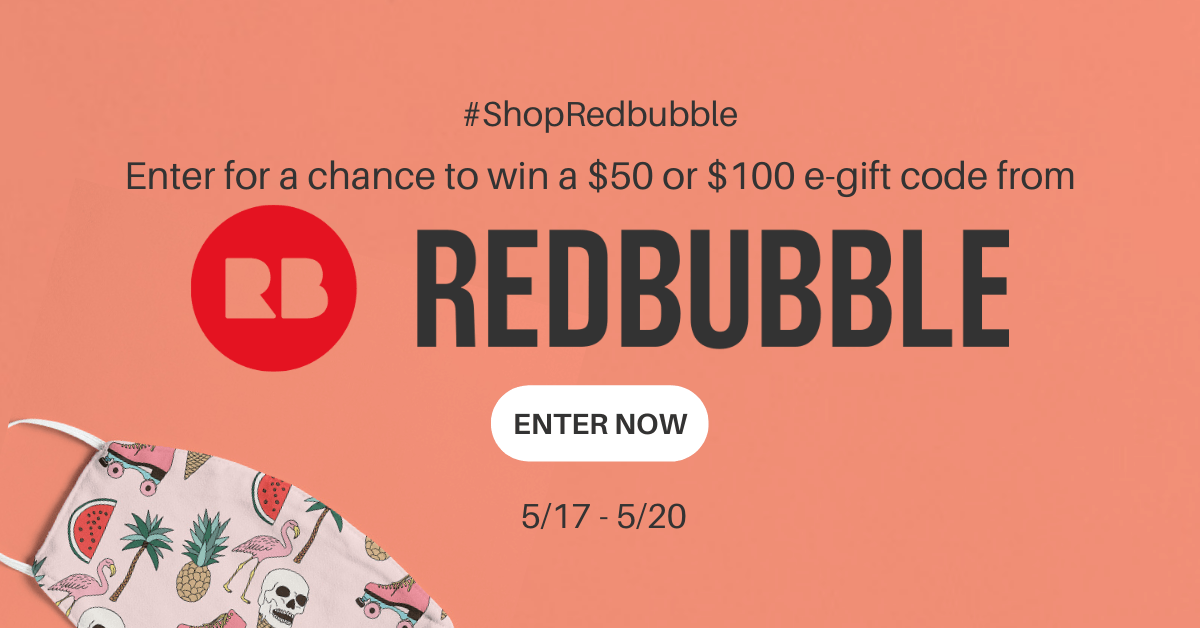 Now through Thursday, May 20th at 11:59 PM ET, Savings.com is giving away six $50 e-gift codes & one $100 e-gift code from Redbubble! Super easy to enter to win!