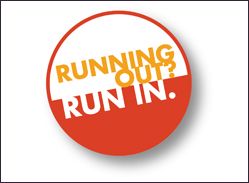 Publix is my favorite grocery store. By far. Its close to my house, it has great sales, we live in the land of Publix where BOGO means the items are half off, and I can always use tons of coupons and they never blink.  The Publix in Alabaster, AL deserves a metal for putting up with our coupon shopping.  From September 20th through September 26th, look for the "Running Out? Run In." event at your local Publix store and "run in," to take advantage of great savings on some of your favorite brands from General Mills and Procter & Gamble, like Cheerios, Totino's, Charmin and Crest. I am planning on getting some Totino's. I have been craving them like crazy!
You can also buy any of the 6 participating items such as Pampers Diapers, Tide Pods, and Yoplait Yogurt Kids, and receive a free gallon of Publix® milk!
They also are allowing me to give away a $25 Publix Giftcard to one of my readers.  So enter on the Rafflecoptor form below to win. This giveaway will run from 9/24 to 10/8 at 10:59 pm CST.
Disclosure:  The Publix gift card, information, and additional gift pack has been provided by General Mills through MyBlogSpark.