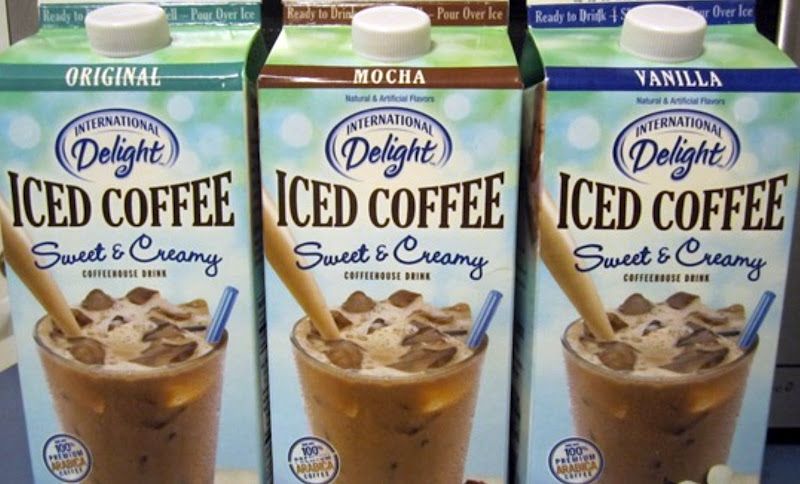 Not too long ago, a blogging friend of mine was asked to send some International Delight Iced Coffee to a friend and amazingly, she choose
me
! That's how Angela with
About A Mom
became my husband's new best friend overnight. You can read her post on International Delight 
here
. So not only does she enjoy sharing fun activities, family friendly recipes, and special things just for moms on her blog but she also is a great blogging mentor who has certainly helped this up and coming blogger out a few times. I was so happy when I saw the package on my porch. I love getting mail. It was all three flavors (Original, Vanilla, and Mocha) and a lovely cup with straw that I can take to work with me. Big E has already tried to steal it a few times. So when I was chosen to do a Tasting Party for International Delight I practically jumped for joy. You can view my shopping trip at Walmart via Google +
here
.
Lately, I haven't been a coffee fan. Don't get me wrong, I love coffee! I just don't need it like some people. I love the smell of coffee but honestly can't stand how much it costs to buy coffee when you can't make it yourself. Or at work we have Flavia machines but someone always steals the sugar canister and I can never find a stirrer straw. So as part of my Taster Party, before work last week, I went and bought an extra carton of the Mocha and brought it with me to work. I let the ladies there have some and they loved it. Two days later my carton was gone and they asked me to bring another! So I brought Vanilla this time. Hopefully it will last a couple of days.
I decided to host my tasting party at my grandmother's house. Every Sunday of my entire life has been spent there for supper so thats the best place to catch my family. Unfortunately, I picked a bad Sunday. Only one of my uncles and one of my aunts were there. My parents, several of my nieces, two of my nephews, my sister and brother in law, and a couple of cousins were there though so it wasn't a total loss. We had some delicious food cooked by my grandmother (best cook in the whole world) and my cousin who has lived with her since her cancer treatments to help out here and there. Then it was on to the tasting. Yummy!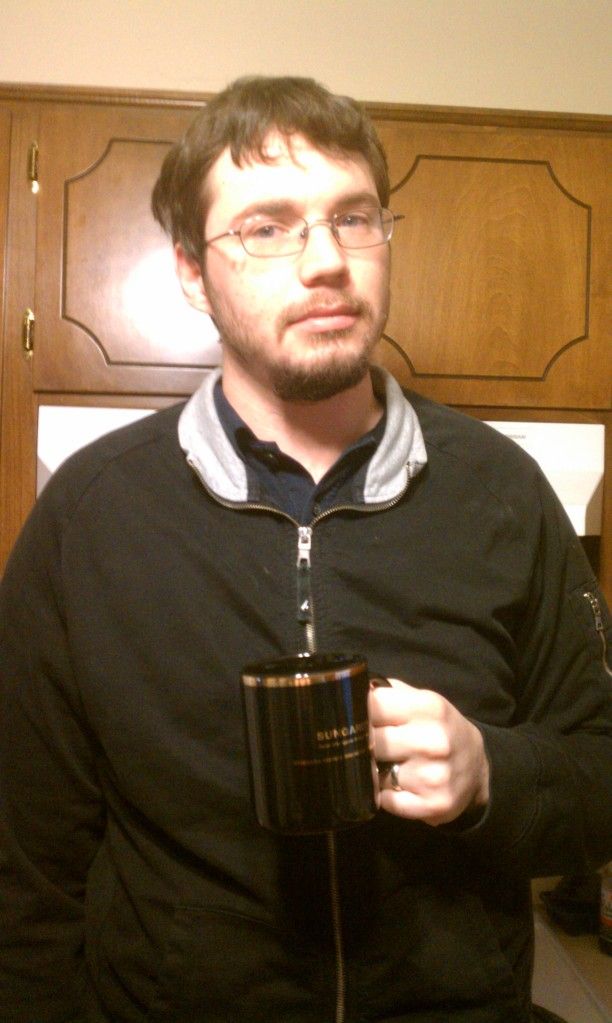 Here is my husband looking very unhappy to be on camera but enjoying his iced coffee
My husband and I really prefer the Mocha flavor. It's very rich and not at all coffee tasting which is good since I kill my coffee with sugar and cream normally to get rid of that 'coffee' taste. My grandparents and parents really liked the original the best. They said they liked how thick it was and it was nice to just be able to pour it over ice. What my sister liked best of all was the price. She said all the flavors were good especially since she pays over 6 dollars on a cup of iced coffee usually and these were only $3.88 a carton. You should have seen how wild those kids were after we let them each have half a cup of Original. Of course, they were wild to start with since they were at Memaw's house and everyone knows you can get away with anything there. Why do you think I go every weekend, hmm? Here is a crazy pic of some of my family enjoying the iced coffee. My uncle on the left is being funny for the camera.
You can connect with International Delight on their website, like them on Facebook, or follow them on Twitter to keep up with product news and promotions.
Bottoms up and hats off to International Delight #Iced Coffee
This shop has been compensated as part of a social shopper insights study for Collective Bias. #CBias  As always, all opinions are my own.