This is a Sponsored post written by me on behalf of POWOW Messenger for SocialSpark. All opinions are 100% mine.
Are you a big texter? I am. I fully believe that is why I kill phones because I text so much. Almost all of my friends are the same way. I mean, why call and have an awkward conversation with someone when you can text them and just ask the simple question you needed to ask in the first place. Plus it's so easy just to check in with someone that you haven't heard from in awhile. Sometimes though, like on my birthday, I really wished that I could text everyone at once. We were running late and I had to text 20 ppl that we would be at the restaurant at 7:15 instead of 7 and to go ahead and get seated. Then I found out about POWOW Messenger for Android.
I like it because I can select several people to send a message to or I can select a certain 'group' in my POWOW Messaging or just to one person.  I also like how it makes the messages look like bubbles the way that iPhones do. I also love that you can backlist anyone. I have a friend of the family who sends me tons of those chain messages and it gets on my nerves so I backlisted them so I wouldn't see them anymore.  Here is a picture of what the POWOW looks like on my phone.  Sorry for the terrible picture but my 18 month old was in my lap.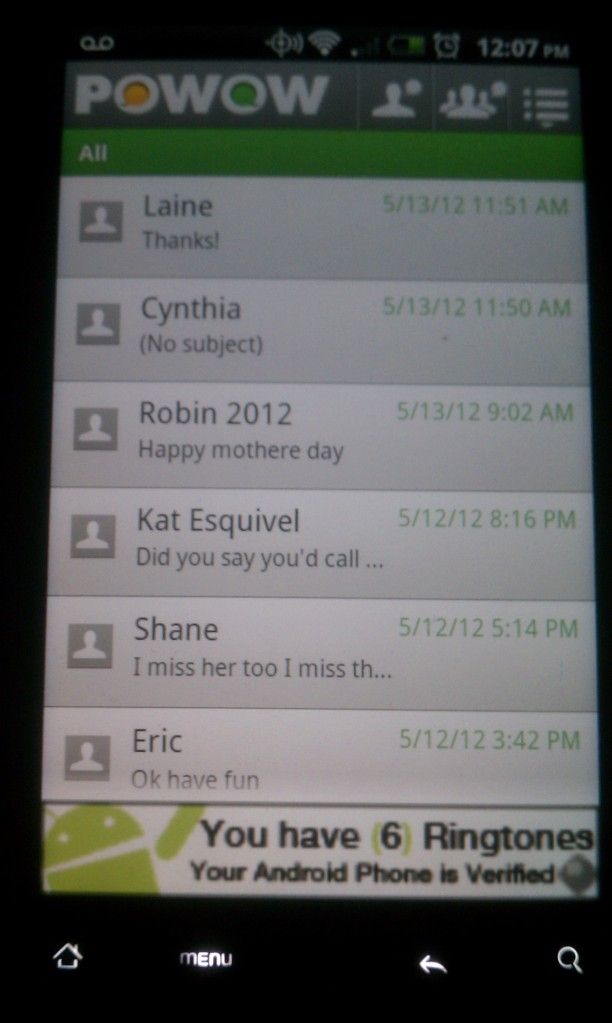 I think this is a great idea and it works great on my phone! Do you like group texting? Is POWOW something for you?