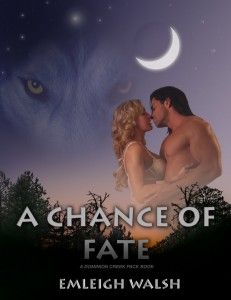 Wow, I had no idea I would be the first person on the tour for A Chance of Fate by Emleigh Walsh. It's kinda daunting. I feel like I might not measure up. Especially since I hated the book……Hahaha, I am joking! I loved it! It has everything I like in a book: supernatural beings, strong protagonists, on the surface storylines and undercover backstabbing you don't see till the end! What's not to like?  Then you throw in some steamy scenes and I am hooked.
Stephanie Taylor is making a name for herself and building a business with her roommate and good friend, Dane, and finally getting over a messy breakup.  She was feeling good and looking forward to moving on. Of course, that's always when lightning strikes. She meets handsome Chance, who just happens to be a werewolf of high standing in the local pack. Electricity sparks and Chance knows that he is meant to be with her.  I love how instant their attraction is. In my opinion, all supernatural beings are super hotblooded and I doubt I will be changing my mind anytime soon. It's too sexy to give up.  Both Chance and Steph are well rounded characters who flesh out secondary characters just by being the scene. Emleigh Walsh really did a good job because the entire book is full of amazing descriptions that make you feel like you are in her character's world. I don't give out endings in my reviews so you need to read for yourself but be ready to not be able to put this one down.  I read this one on my Droid after soaking in the tub and after finishing it (way too late at night cause I didn't want to stop), I had super pleasant dreams all night.
Buy it Kindle / Paperback / Nook
Check out the rest of the stops on the tour and win some prizes as well! Just check out this post for more details! You can also follow Emleigh Walsh on Facebook for upcoming promotions on her books!