This post may contain sponsored links. As always, all opinions are my own.

I know that hockey shouldn't be as much of a draw for me as other sports since I live in Alabama and can barely walk without tripping on air but I love it. I love every sweating, bruising second of it. I do not, however, love the bruises after the fact. Even if I am just watching hockey I somehow make it an interactive sport and crash myself around and throw myself down on every up and down of the game. I am glad to have awesome products like PROcure Bruise Remedy creams to help my silly self out later so I dont look like I have been in a MMA fight.  It has a gentle "no touch" applicator dispenses gel without applying painful pressure to tender bruised areas. We all know it hurts so bad after the fact that you would rather leave it alone but PROcure helps improve skin discoloration due to bruising and spider veins. And it has a  botanically rich formula concentrated with Arnica Montana and MSM in a convenient portable size.
Right now there is an awesome $2 off coupon for it which you can print out below which is redeemable at Walmart stores. Very easy to print and use.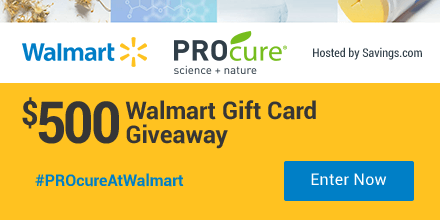 Wednesday, August 2nd at 12:00 AM ET to Tuesday, August 8th at 11:59 PM ET.
Ten (10) winners will receive a $50 Walmart gift card.
Users enter the giveaway by heading to the Walmart page on Savings.com and submitting their email address on the form at the top of the page.
The winners will be chosen through a lottery drawing and notified on Wednesday (8/9) via the email address they used to enter.
See complete Official Rules for entry instructions, full prize descriptions, restrictions and other important details.