I made a very easy pork loin recipe the other night. I was actually quite surprised at how well it turned out once I convinced myself I had cooked it enough (I always worry a bit much when it comes to pork).
Ingredients:
2 cups Italian seasoned bread crumbs
1/2 – 2/3 cup olive oil 
2 pounds pork tenderloin
Directions:
1. Preheat oven to 425 degrees.
2. Mix olive oil and bread crumbs together until they are at a moist, sticky consistency.
3. Place pork loin on a baking sheet. Cover pork loin in bread crumb mixture (make sure its about 1/4 inch thick) on all sides.

4. Bake until meat thermometer reads 165 degrees in the center part of the pork or until no pink is showing when cut. I baked mine about 45 minutes but when my mom tried the recipe, she only baked hers for 35 minutes. Difference between a gas stove and an electric stove I guess.
5. Optional: Cover in brown gravy or pork gravy. My boys LOVE gravy.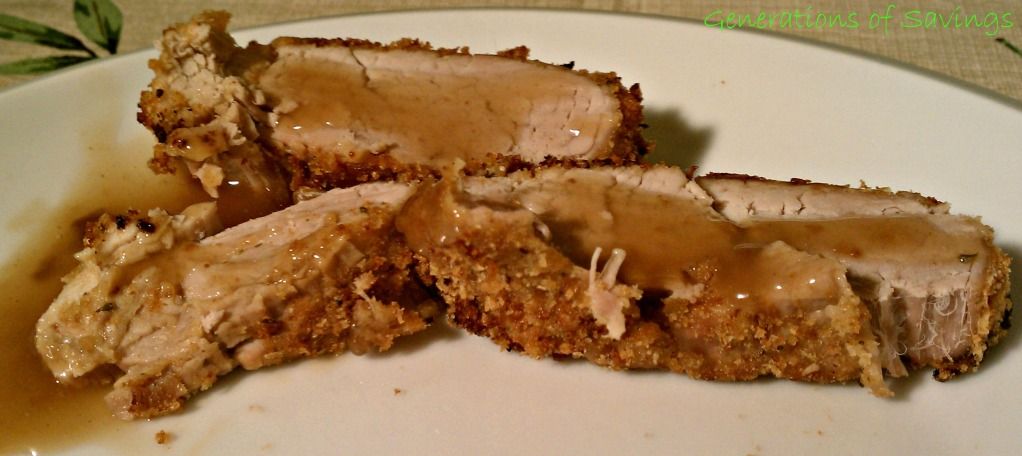 I would love for you to let me know how it worked for you! Do you have a great recipe and want to share? Please do in the comment section or on my Facebook page.