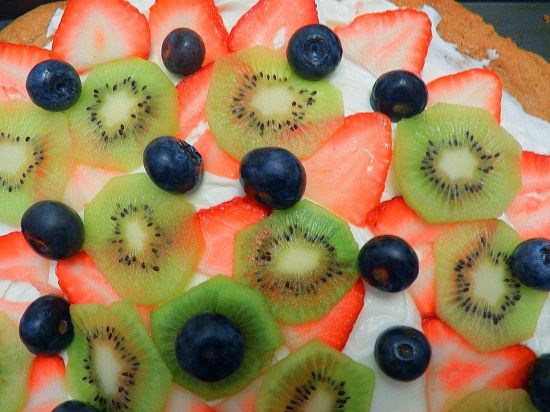 Without the chocolate drizzle
TRIPLE CHOCOLATE FRUIT PIZZA RECIPE

Ingredients:
1 package (16 -18 oz) refrigerated chocolate chip cookie dough
2 squares (1 oz each) white chocolate for baking
2 tablespoons milk
1 package (8 oz) cream cheese, softened
1/4 cup powdered sugar
1 cup Cool Whip, thawed
12-16 strawberries, cut in lengthwise slices
2-3 Kiwi, peeled and cut in lengthwise slices
10-15 blueberries, rinsed well (optional)
1/4 cup semi-sweet chocolate morsels
1 teaspoon vegetable oil
Instructions
Preheat oven to 350 degrees. Shape cookie dough into a ball and place in center of round stone or cookie sheet. Roll dough to a 12-inch circle, about 1/4 inch thick.
Bake 12-15 minutes or until edges are set. Cookie will appear to still be gooey or soft. That is what you want. Remove from oven; cool 10 minutes. After cooling, slowly work cookie up from stone or cookie sheet.
Place white chocolate and milk in a bowl. Microwave on high 30 seconds; stir, then microwave for 30 seconds, stir until chocolate is melted and mixture is smooth. Microwave an additional 10-20 seconds if necessary.
In another bowl, combine cream cheese and powdered sugar; mix well. Gradually stir in white chocolate mixture; mix until smooth. Mix in Cool Whip. Spread cream cheese mixture evenly over cookie.
Arrange strawberries, kiwi, and blueberries over cream cheese mixture rotating from outside in.
Place chocolate chips and vegetable oil in a bowl; microwave uncovered, on HIGH 30 seconds or until chocolate is melted and smooth. Drizzle over fruit. (You can use chocolate syrup for the same effect).
Refrigerate at least 30 minutes before serving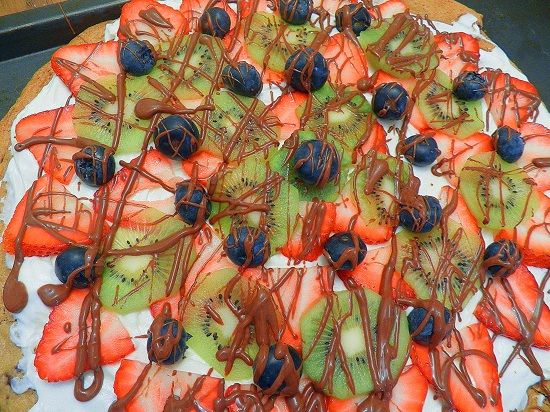 I entered this one in the Grand Spring Recipe Contest and it won GRAND PRIZE!