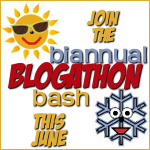 Well, I will fully admit that I did not get everything I meant to get done.  You can look at my list of things that I was supposed to do this weekend here.  I managed to get a few of them done.
I went through about 1/4 of my old posts and inserted no follow links.
I went through my categories and deleted quite a bit of them.
I answered about 30 emails and set up some new review opps
I procured a few new sponsors for the BtS Bash
Mostly I worked on my house this weekend. Our appraisal is today so please wish us luck and throw some prayers our way.
I had fun and I loved learning new things! I will definitely be there for the next Biannual Blogathon Bash!