When I was a kid my mom used to have to make two or three dinners a night. I have three sisters and a picky, diabetic father so she had her hands full.  However, lunch was whatever we could scrounge up on our own. It usually ended up being a sandwich.  It is the complete opposite now that I have kids. They will eat what I cook for dinner or they don't get anything.  Ok, sometimes I give in and let them have a snack but that's rare. I usually try to deal with the picky-ness at lunch.  Both kids like different things so I have to work around that and trying to feed them healthy as well as the fact that I work two jobs and volunteer.  So there is not a lot of time for me to go shopping and spend tons of time on lunch.
I love the Del Monte fruit cups already for lunch time because they are healthy and quick. Finally something I don't have to peel or wash or cook. I can just peel off the plastic top and hand it over to a child.  Or I can add it to my son's snack for school or his lunch.  I rarely send lunch to school but I do have to send two snacks a day for him. I also have to send snacks everyday to daycare so I spend a ton of time each week trying to think of something that they will love but that I dont have to do much for or spend much on.  Del Monte recently came out with two new flavors of fruit cup for the busy parent. They have the Diced Pears with Vanilla & Spice pictured above and the Diced Apples & Pears with Caramel pictured below.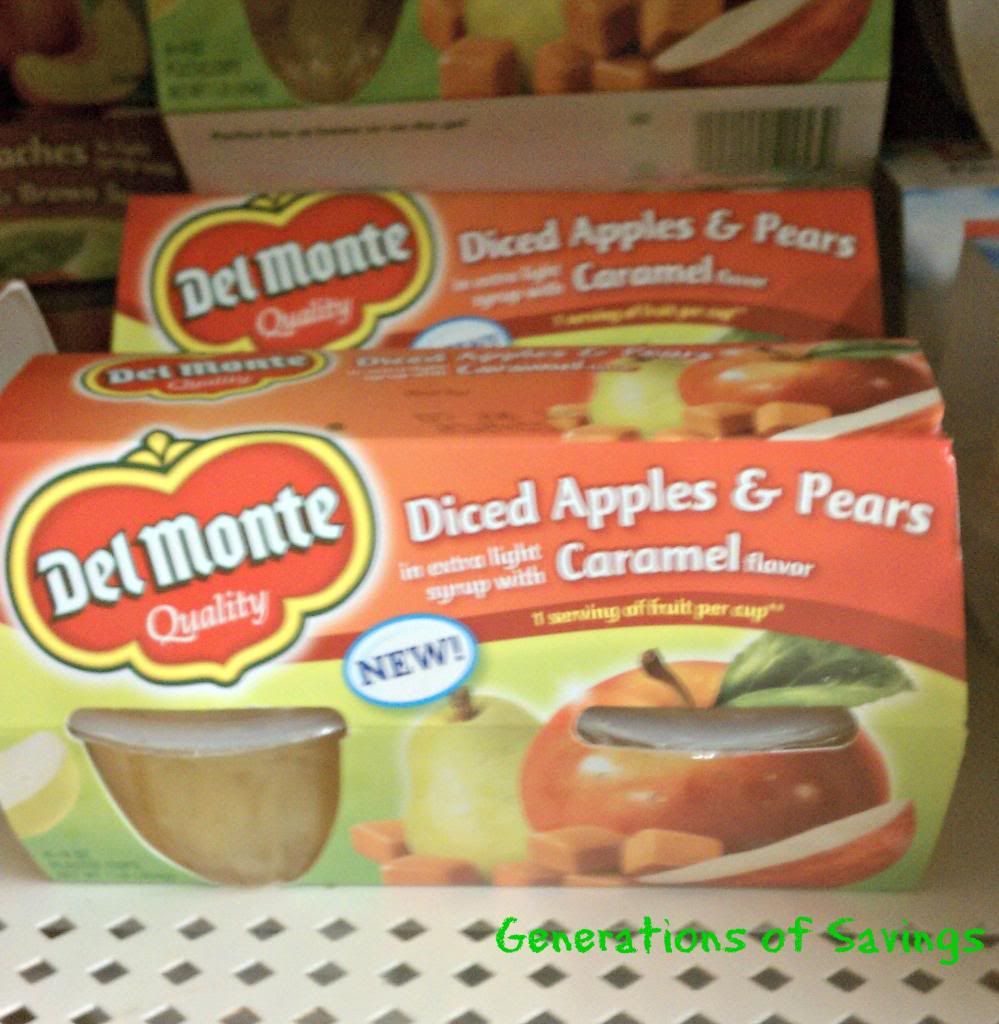 I have to say that the Diced Apples & Pears is my favorite. I love caramel flavoring and it just makes it extra sweet to me.  Both new flavors have 60 calories per serving. They are gluten free and do not include high fructose corn syrup. So you can rest easy knowing that your child is eating something safe and healthy.

This is my idea of a picky kids lunch.  My kids are so weird about what they will and wont eat so I give them a little bit of everything. I have to get the healthy in there somehow. I am happy to have something like the Del Monte fruit cups so I know they are getting their fruit for lunch as well as it being sweet so they don't even want a dessert.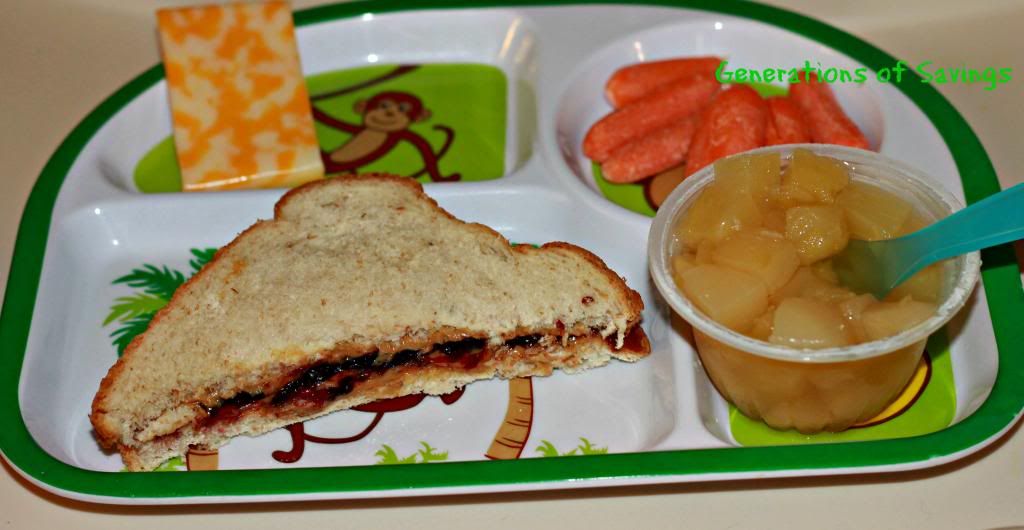 Baby E loves cheese. I always get the cheese squares so he can eat it with every meal.  He eats like a bird lately so anything he will actually eat is a good thing.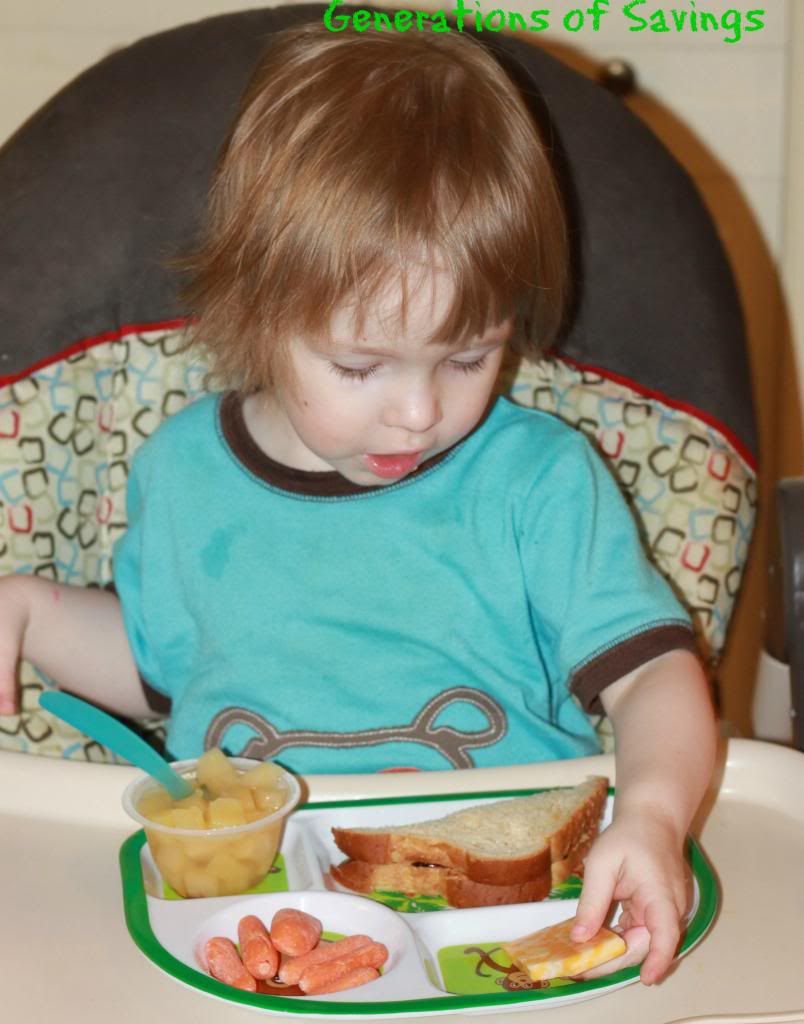 He is also very particular. He wanted to make sure none of the apples and pears escaped so he was picking them up with his fingers and eating them despite having a spoon. I love that he actually likes both kinds of fruit cups. He ate almost every bit of the one I gave him today and of course big brother is always willing to finish off any leftovers. Little M likes the Diced Pears with Vanilla & Spice the best. He says it tastes like pie.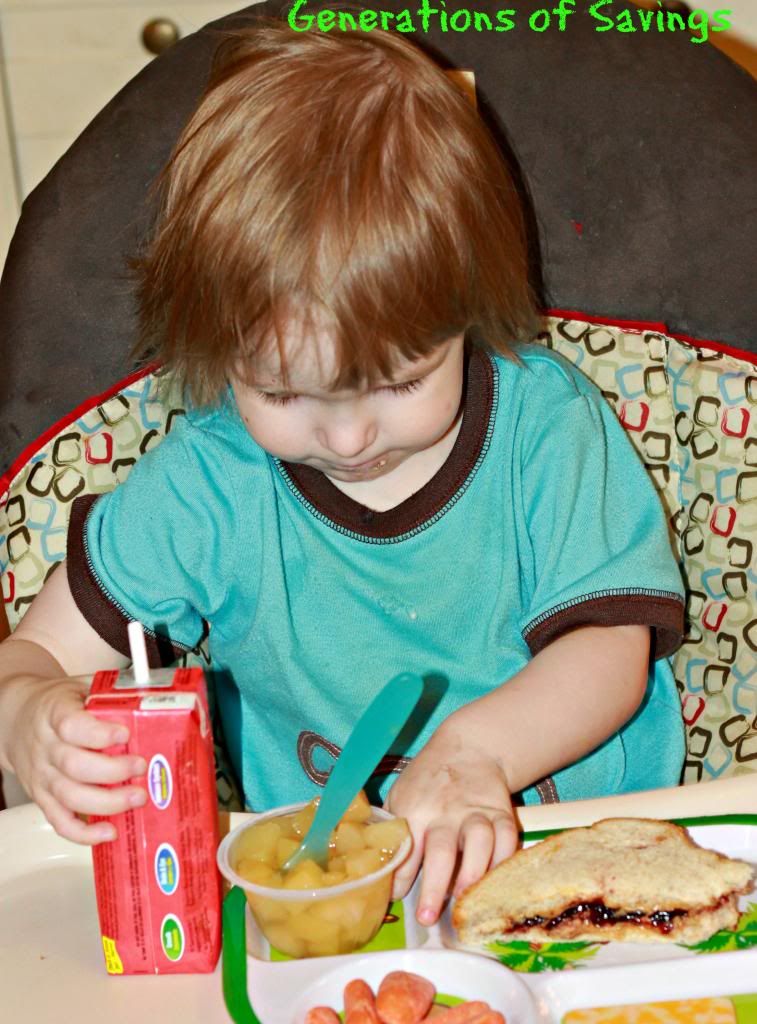 You can check out Del Monte on Facebook and Twitter.  They also have an awesome printable coupon available.   If you want to see my entire shopping experience, please check out my Google + album.
I am a member of the Collective Bias®  Social Fabric® Community.  This shop has been compensated as part of a social shopper insights study for Collective Bias™ and Del Monte #CBias #SocialFabric