This is a Sponsored post written by me on behalf of Slim-Fast for SocialSpark. All opinions are 100% mine.
I am sure everyone is aware of my woes about my weight gain. I know I said I wasn't going to let myself worry about it until after the holidays but then my husband started worrying about his own weight gain more than normal. He is really getting into the losing weight thing and has been working out every night and drinking more water. So when I received a great coupon in the mail for free Slim-Fast, he immediately claimed it. So I told him he could have it as long as he told me how much he liked it and then after the holidays, I would do the Slim-Fast 3-2-1 plan with him.
I thought we would try the Slim-Fast shakes so I went to our local Food World to get them. The new Slim-Fast shakes are available in the pharmacy sections of grocers and retailers nationwide, including Wal-Mart, Target, Safeway, Kroger, online at Amazon.com, and the Slim-Fast 3-2-1 Store on Facebook. He told me to get the big pack of shakes so that he could take one every day for lunch. I made him share one with me and I admit I was surprised at how good it tasted. It was like a creamy milkshake. He chose the French Vanilla. When I start the plan with him, I am probably going to go with the Creamy Milk Chocolate. They have several different flavors for the shakes including:
• Creamy Milk Chocolate
• French Vanilla
• Rich Chocolate Royale
• Cappuccino Delight
• Strawberries N' Cream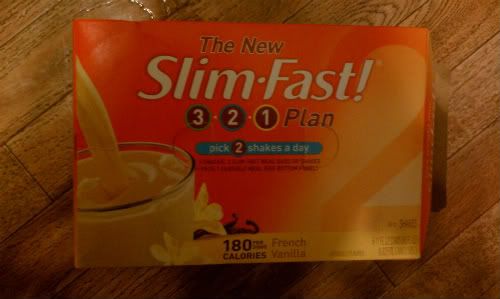 The Slim-Fast 3-2-1 plan is so easy to do! It consists of three snacks a day such as Slim-Fast 100-calorie snack bars, fruit, nuts or veggies. They recommend that you eat two Slim Fast Shakes or Meal Bars per day which provide all the nutritional value of a balanced meal and give you up to 4 hours of hunger control. Lastly, and I would recommend doing this for dinner, you need to eat one balanced 500-calorie meal per day. Slim-Fast gives this awesome tip to try to fill half your plate with veggies, a quarter with protein, and a quarter with whole grains.
You can connect with Slim-Fast on their Facebook page to keep up with any awesome product news or promotions they may be having. You can also visit Slim-Fast on their website to find out about what other great products they offer.