This post is sponsored by Savings.com. As always, all opinions are my own.
I spend most of my life on my phone. I work in social media and I also read on my phone constantly. I am a big nerd so I either have a book in my hand or one on my phone. So it's safe to say I love my phone and I am sure everyone feels the same. But its time to upgrade so I am excited to look at the new phones!!!! I can't wait to break a new one in and I heard about a great deal from Verizon Wireless.
Get Up to $200 Off & Save 50% On Activation when You Buy Online at Verizon Wireless!
Verizon Wireless currently has the new Samsung Galaxy Note 10 and if you saw the Apple event yesterday, you know you can get the new Apple iPhone 11! Of course I am getting the new iPhone 11. I have been waiting and I love that new triple camera. It looks awesome. You can pre-order it September 13th and it will be released on the 20th!
Or if you are like my husband and hate Apple for some reason then you can order the Samsung Galaxy Note 10! It's available now and it has 30 minute wireless power-up 2.0 with long lasting battery life!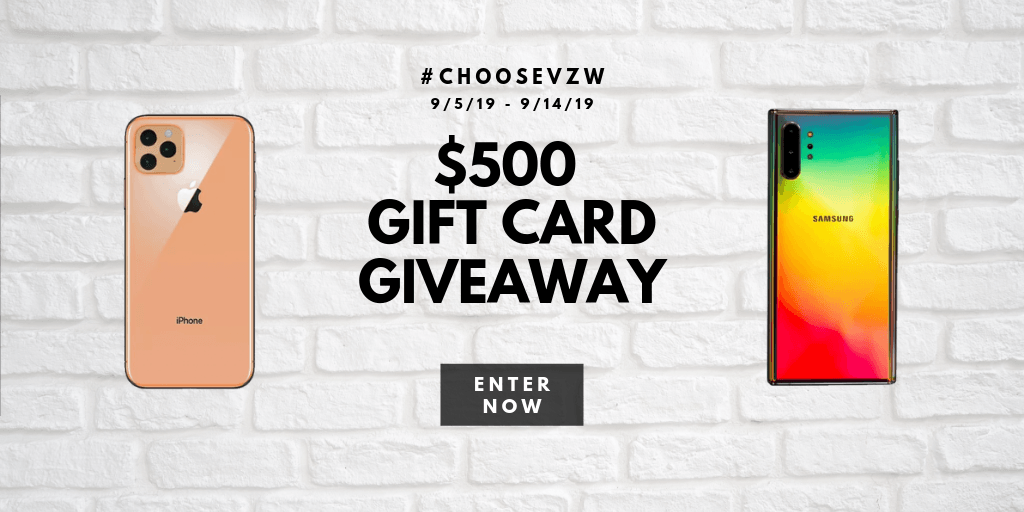 Enter the $500 Verizon Wireless gift card giveaway right now! Giveaway ends on Saturday, September 14th at 11:59 PM PT
Five (5) winners will receive a $100 gift card from Verizon Wireless.
And if you love winning, you should RSVP for the #ChooseVZW Twitter Party – $500 in Prizes! It will be Friday, September 13th at 10AM PT/1PM ET