I don't know about you but even before I became a blogger, I had no memory and no organizational skills. Probably because I am a mom. Usually if I am sitting at the computer and I come across something cool I will be interrupted by my 9 year old screaming that he needs help on his homework or my baby needing a diaper change or the cats scratching the furniture. So nine times out of ten, I never get back to what it was that caught my attention in the first place.
Clipix can change all that. With clipix, you can clip things you like from news articles to pictures to recipes, etc and come back later to enjoy them. You can add the 'clip' button to your toolbar so that no matter where you go on the internet, you can always just hit that button and add something to your Clipix boards. Plus, its free!!! You can create as many boards as you want so that you can keep your boards organized. You can also mark them private or public. Here is a board I just started of books I love.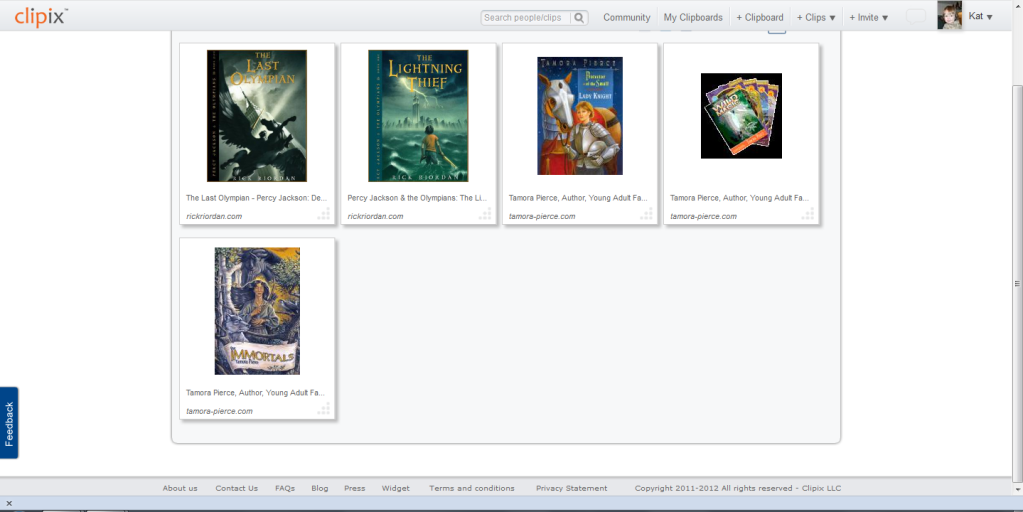 You can use it for almost anything! You can clip all the different ingredients to a recipe or the party materials you can for a birthday party. You can clip different pictures you are planning on making a collage with. Or if you are a college student, you can clip different articles you need for a paper or research project. I wish I had something like this when I was in college because once I had everything bookmarked and we updated Firefox and ALL my bookmarks disappeared. I cried.
Anything cool thing about Clipix is that you can place the Clip Button on your blog so that if your readers come across something cool, they can clip it. Hopefully my readers will find some uses for it especially with all the fun recipes I have been doing lately. There is even an iPhone App for it!
Still not sold? Check out this Youtube video on how it works. Go and sign up for Clipix and come back and tell me what things you think you would clip!
Promoted Post