Disclosure: Post sponsored by Lunchbox but all opinions are my own.
Every time I do something new with my son I feel like it's the last time I get to do that. The only time. And I want to cry. I know I have been through this before but I had my middle child almost nine years after I had my first so it all feels new to me. My son is five and it occurred to me that he had never ridden a bike. When I was five I was zooming through the neighborhood on my bike trying to catch up to my older sister. I want him to have that. My older son is always out on his bike and I am forever reminding him that he has to wear his helmet and that he cant ride his bike with flip flops on. So with my five year old I wanted to make sure he had a great helmet and a great bike. I was invited to be on a campaign with Schwinn and I was so happy. My older son's first bike was a Schwinn bike so I think it is fitting that his little brother follow the same path. We got the Boys 16 Inch Schwinn Burnout SmartStart Bike from Toys "R" Us and could not be happier with it. Established in 1895, Schwinn is the go-to resource for the recreational bike rider. Toys"R"Us has the largest selection of 16" bikes for kids. I did the order online and had them ship it to the store. It was super quick when I got there to just go to the desk and pick it up.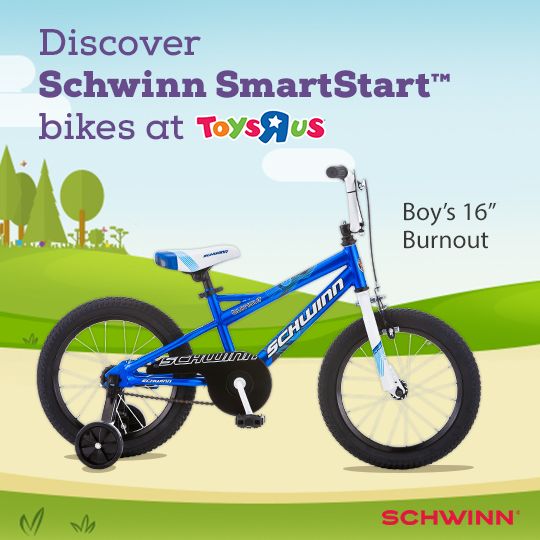 This is how it looks out of the box. I just hooked the helmet straps across the handles so he will always remember to wear his helmet when he rides.
My son was a little bit hesitant at first with his new bike. Even though it is safer because it has less wobble than other training bikes and better balance, he was worried he would fall. Once he got on there though he was doing well. The Schwinn Burnout SmartStart Bike has smaller grips for smaller hands which I love since my son is first learning. The seat is shaped and sized to fit a child and the seat can be raised to fit a growing child. When its raised the distance from the seat to the handle bars increases which allows the bike to grow with them. I think that is just awesome because kids grow so fast. 
My husband helped him get on the bike and settle himself. Like I mentioned, he was cautious at first. We had him push himself along with just his feet first to get used to the balance. He wanted to push backwards on the pedals when he first tried them so we had to teach him to push forward with one foot and then the other. I was taking photos of him and shouting encouragement. I honestly almost cried a couple of times. My little baby is big enough to ride a bike now. It seems like he was just born to me.
Then my husband let him do it on his own. It was slow going but my son eventually got the hang of the pedals. He started to pedal out of the driveway and told my husband he didn't need help. And that is when the tears really happened. He shouldn't be getting so big. It makes my heart hurt.
He rode it by himself. He rode all the way to the middle of our cul de sac. We live on a dead end road in the corner of the cul de sac so we do not have to worry about traffic but we still stayed right in front and behind him just in case. He knows from playing with his balls in the driveway that cars are dangerous so we never go in the street without an adult. He rode about ten feet and then told us he would rather ride in the driveway because he was scared of the slight downward slope that happens at the edge of the cul de sac. So we helped him turn the bike around and he rode back up to our driveway. He couldn't quite push his pedals hard enough to get over the bump on our driveway but he tried. I think he is going to be wonderful riding his bike. He told us wants to play on it everyday now so he can learn to ride a bike just like his big brother. Like all Schwinn bikes, SmartStart bikes have a limited lifetime warranty for as long as you own the bike so I think we have a long time of bike riding ahead of us. Now my husband and I need to get ourselves new bikes so we can ride with them. 
I have included a great infographic on key basics for biking with young riders. You can also check out these two videos: Video One – Video Two for more bike riding tips for new rideres. Below that you can enter to win a fantastic sweepstakes!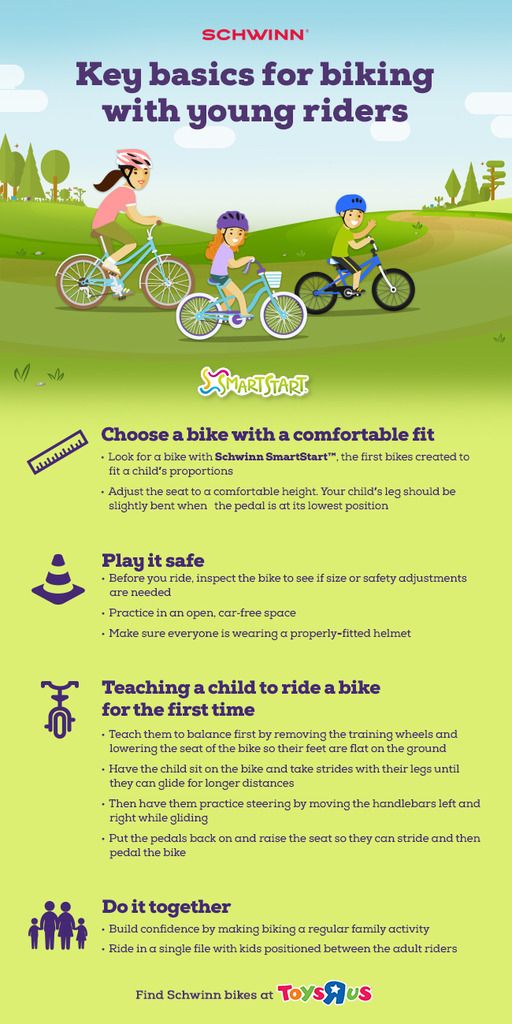 ENTER TO WIN!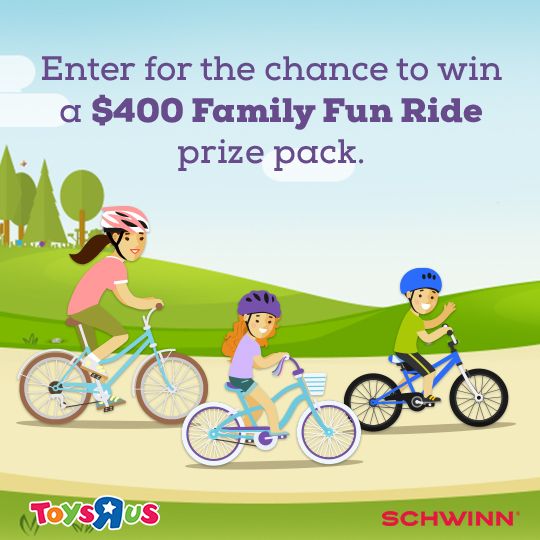 Enter below for your chance to win a $400 Family Fun Ride Prize Pack!