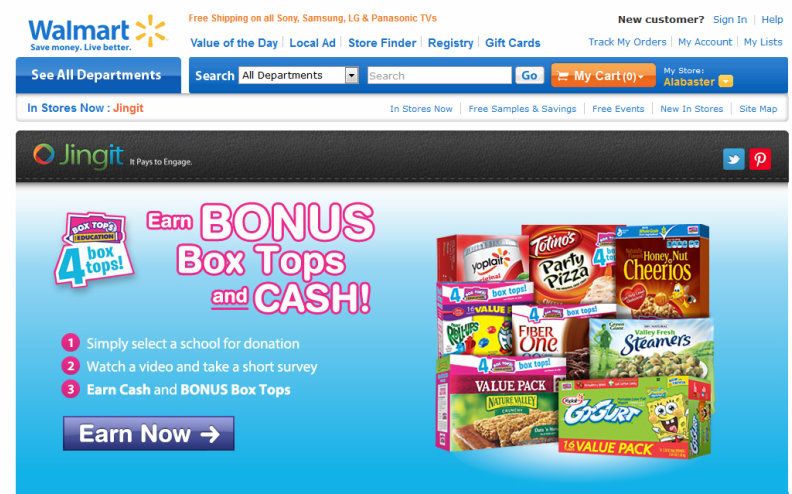 I think everyone knows that I love Box Tops 4 Education. I have half my family collecting for Little M. His schools always do contests between the classrooms and I want him to always win.  Every little bit counts for the schools especially now that money is so short. That is why it is so awesome to be able to collect more Box Tops for my son's school by using Jingit! Jingit is super easy to use. It is a free mobile app that you can make money from. They will also donate extra box tops to your choice of school.
You can download the app on your phone or  you can download the app online .
You can even use Jingit if you don't have a smartphone. You can go online and watch videos to make money and every time you make money, they will also donate box tops! It is a win-win for everyone. One of the key things you need to make sure of is that you select a school when you go in to create your account. If you already have an account, it should give you that option to register a school the next time you log in. I did most of my video watching on my phone the first day I downloaded it just by clicking on Earn in the Jingit app. It was so easy because the videos are not long and you answer a couple of questions at the end. Each video I watched that day paid me $.30 cents and 4 Box Tops for Little M's school.
You can also earn money in the store so I got my crew together to go to Walmart. My boys were tired from a day playing with their cousins and my mother so I knew I had to run quick through Walmart before someone threw a tantrum.  Jingit has several ways you can check in to products in store. The first one we came across was the Honey Nut Cheerios! I was excited to try out my new app so I grabbed it off the shelf and click, 'Check In' on Jingit.  It asked me which product I had and I clicked on the right one.
After I checked in to the right product, it brought up a scanner so that I could scan the barcode of the Honey Nut Cheerios. You do not have to own a scanner app, it is part of the Jingit app and will come up automatically. After you scan the app to check in, it will ask you a couple of short, super easy questions. Then you will earn money (I earned $.50 for this check in) and Box Tops will be donated to your school. I earned $2 more dollars doing check ins in the store. I could have earned more but my phone died! Serves me right for not leaving it on the charger long enough.  You can see all the brands that were participating in the General Mills Box Tops 4 Education and Jingit check ins.  They are all brands I love and buy all the time so it is so easy to make money!
Also, while I was at Walmart, I saw a TON of signs showing General Mills products offering 4 extra Box Tops. They had two big displays in the front of the store of items including a whole display of cereals and a whole display of school snacks like Gushers and Fruit by the Foot. Most of the items I saw also had extra box tops either by a peel off label to turn in with your product or a cut out portion on the back or side. The Fiber One Value Packs had the extra Box Tops for Education on the side.

It is just amazing how easy it is to collect these for school. It seemed like every aisle had more products with the extra Box Tops and I knew I was collecting even more Box Tops by doing the check ins through Jingit. I collected 32 extra Box Tops just by watching a couple of videos and checking in to a couple of products. Super simple!
Check out my Google + Album showing our whole shopping trip and how easy it is to use Jingit!  Follow Jingit on Twitter and Facebook for the latest information, products, and promotions!
I am a member of the Collective Bias™ Social Fabric® Community.  This shop has been compensated as part of a social shopper insights study for Collective Bias™ and Jingit #CBias #SocialFabric  As always, all opinions are my own.