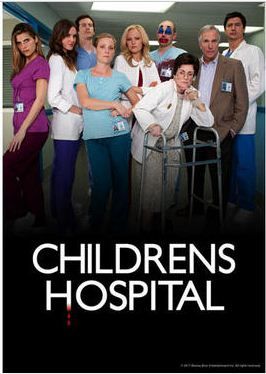 Childrens Hospital is a trip. I mean the only thing I can use to describe it is wildly inappropriate. Half the time I am cringing at the antics of the staff but the other half I am laughing so hard that my husband comes to check on me. I actually started watching in Season Three and I wish I had known about it sooner. I like Dr. Cat Black.  Something about her is more funny to me than the others. Or maybe its cause I am ditzy like crazy myself. It is filled with crazy mix-ups, hilarious characters, and outrageous situations.  If you haven't seen it yet, now is the time to! Adults only though because it is very mature.  Funny mature but not too too bad.  Childrens Hospital: The Complete Third Season is available on DVD NOW!
I think probably the best mix up I ever had was when I met my friend Bryan's girlfriend.  He told my friend Diania and I his long distance girlfriend moved to our town and was going to start coming to our school soon. So when we got a new girl on a Tuesday, I honestly did not even connect the dots.  Diania and I talked to her and showed her around. She asked about cool people to hang with and I started telling her about the guys we knew (hey, we were 15) and somehow got on the subject of Bryan. I told her all about him (not knowing she was his gf) and she sat and listened and never corrected me.  She broke up with him that day.  It was like a sitcom.  I never told Bryan it was my fault.  Poor guy but obviously they didn't need to be together if she couldn't handle the truth right? Right?  I still kinda feel bad about it.
Confess a time you or a friend has caused a mix-up that resulted in a comical situation. Did you get caught? Were you able to get away with it?
I have been hired by Warner Bros WBWord division to raise awareness for 'Childrens Hospital.