This is a Sponsored post written by me on behalf of Whitney Farms for SocialSpark. All opinions are 100% mine.
I attempt to grow things every year. I say attempt because Alabama weather is so unpredictable. We plant on Good Friday usually and it's pretty warm at that time. However, for the past two years Alabama has gotten snow in May. Snow! Which pretty much wilts all my plants.  Some of it is my fault though. I don't really give them lots of love like I should.  I always worry that my kids should be eating fresh veggies from the garden but my veggies just aren't up to a full year stock.  I plan every year to have a great garden though!
This is what I wished my garden looked like. Organized and full of nutrition and beauty!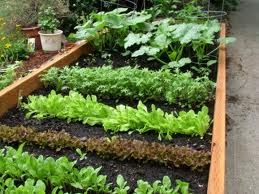 This year I promised myself that I would do whatever it took to make my garden healthy! I want to start planting in organic soil. I know that it is healthier for the plants and for the environment. I will sing to my plants if I have to. Whitney Farms® has 25+ years of leading gardening experience and has improved their products to have low to no dust, easy to apply, and contains beneficial microbes. It even has no manure odor which is a plus since I have to be digging around in it for quite awhile. Whitney Farms®also has specially designed protein-based blends provide your plants with both macro and micronutrients they need to grow and thrive. I would love to start using  Whitney Farms which that has no additives or artificial components!
So what do you think? Do you use organic plant food on your garden? Whitney Farms® has a $3 coupon out now so I think its a great time to check it out! I would love to see pictures of your garden or if you have some tips for me on mine, please leave a comment! You can post the pictures on my Facebook page!