Dragon Fire Book Review & Book Tour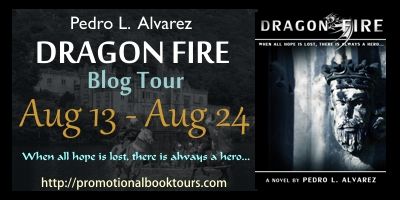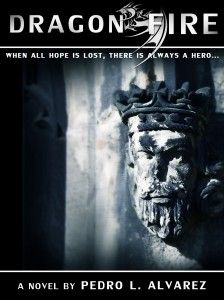 I am definitely a sword and sorcery type of girl. I grew up on Soloman Kane, Conan, and Kull. My father even has a tattoo of Kane on one arm, a gryphon on a crystal ball on the top, the wyrm at world's end on the other arm and his navy tattoo at the top of that arm.  I performed "The Road of Kings" by Robert E Howard for my poetry performance in high school. So you can see how I would love these types of books. So pretty much any book titled Dragon Fire and you have got my interest.  Throw in being an anguished kingdom's only hope and I am sold.  I eagerly accepted to do a book review on Dragon Fire by Pedro L. Alvarez as you might have guessed.
Dragon Fire is about a young man named Delcan who wants to become more than just a farmers son not knowing that he will one day change the course of the kingdoms future. He wants to win at the Flarian Festival and become a squire and eventually a knight. He knows he is destined for greatness. With him is his friend Sandrion who also wants to become a knight. They qualify and meet the princess, Aria, who disguises herself to try to take a squires training. Even though she is far better than the boys, her grandfather thinks her a disgrace and keeps her locked away.  The people are downtrodded and no one believes in anything anymore. There is no longer a world of dragons and magic, only the world of an evil, greedy king. Aria and Delcan set a chain of events in motion that will forever impact the kingdom around them. Will they make the right choice?
I thoroughly enjoyed this read.  I was kind of disappointed when it was over because Alvarez's world is a world I would continue to read about. The characters were so real that I gasped every time one of them was in danger and literally almost cried when one (no spoilers on who) died. I saw it coming, I knew it was going to happen but I was still upset when it did. I get invested in books such as this one and Dragon Fire was like opening a door into a world that people left long ago. I wish it had been longer but I loved every second there was of it. The details were very expressive, one could almost imagine being at a festival long ago cheering on the peasants who competed to become squires.  If you haven't read Dragon Fire yet, go get it. Today if possible. You will not regret it.
You can buy on  Kindle / Barnes & Noble / Smashwords
You can also check out Pedro L. Alvarez on Facebook, Twitter, and Goodreads