I was recently sent two amazing products for my children to try out. They literally cried when they saw me open the box and I told them they had to wait until closer to Christmas to try them.  I finally relented about a week before Christmas because I was tired of being asked when they could play with the awesome toys  in my bedroom.  My older son even went so far as to say that he never had anything that cool before and he hated his other toys.
I have always loved Crayola products. I remember having a Crayola art kit as a child and I carried it everywhere.  They have only gotten more amazing over the years. One of the items we were sent is the Crayola Marker Airbrush Sprayer. The Marker Airbrush includes the Airbrush Sprayer, 8 washable markers, 4 bright fabric markers, 20 sheets of paper, and 4 stencil sheets.  My kids went crazy over it.  They were begging me to go buy them shirts to make cool designs on and using up half the paper in the house spraying stencils.  The Marker Airbrush is kid-powered and works with a simple hand pump, and can be used with any of Crayola's Classic Washable Broadline Markers, Washable Broadline Window Markers, or new Bright Fabric Broadline Markers. They kept begging Daddy to pump it up because he did it so much faster.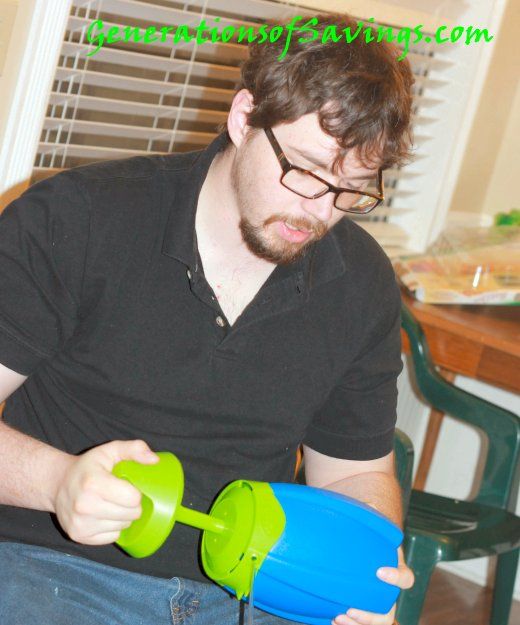 At first I let them play in the kitchen floor because I could just mop over any messes. Then they were moved to the back porch because I wasn't able to do anything in the kitchen. They fought over whose turn it would be but thats life with two boys.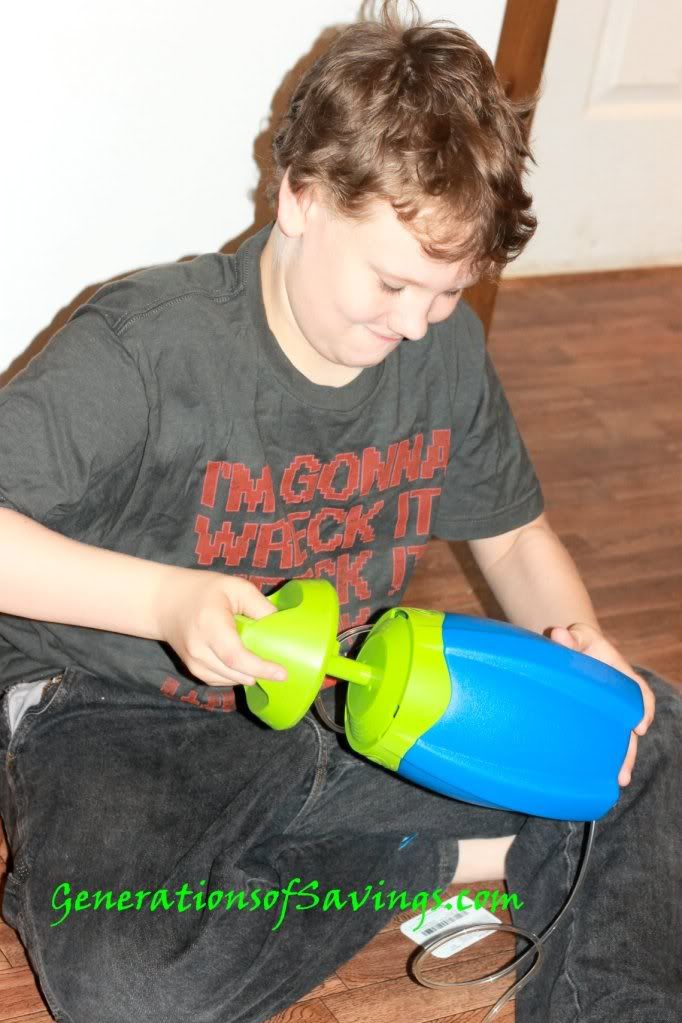 Here is Little M pumping up the Sprayer. I think it is so cool that it uses markers. I have so many packs of Crayola markers around my house. Of course it came with some really cool colors anyways so my kids are still using those. The stencils were really interesting as well. My older son loved the dragons and Baby E just liked spraying it.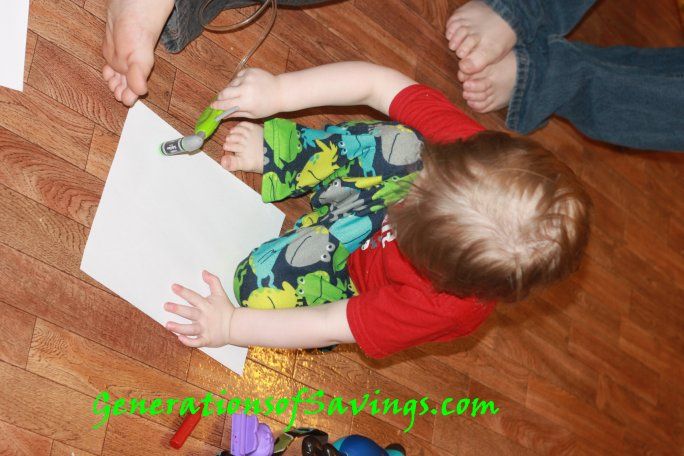 You can buy the Crayola Marker Airbrush Sprayer at Walmart or Target for a very reasonable price. My friend already bought one for her boys because they liked playing with ours so much. They had a huge display of them at Walmart right when you walked into the toy section so she grabbed one up for a cool home for the holidays present.
We were also sent Crayola's Digital Light Designer and it is as cool as it looks in the commercials. The kids also fought over this until Little M convinced Baby E that he was 'helping' by pointing to where he wanted him to light up the dome. It worked out well after that. The only thing I didn't like was how many batteries it required but since my kids have been using it non stop for weeks now and it still has the same set of batteries, they were well worth the money.
There are three different modes of play:
Draw – Using the digital light stylus, kids can select colors and line width to begin free-drawing anywhere on the domed surface, switching between eight different colors
Animate – Kids can activate their creations with amazing special effects, making them spin, change colors, melt, or even mix up the drawings
Play – With 8 different interactive games and activity apps, kids can spend hours creating or just doodling with Rainbow Draw, magically duplicate their creations with Mirror Draw, create funny animated faces, play interactive mazes, and more
Little M liked the play mode the most. He kept trying to teach me how to do each game and activity. I love it when my kids learn something before I can even look at the instructions. The Digital Light Designer uses LED technology as the medium to bring kids' colorful ideas to life on a 360-degree domed drawing surface. I think this is beyond anything I had as a kid. I hope my kids realize how lucky they have it and what an amazing brand Crayola is because they have been coming out with new amazing products since before I was born and will continue to do so for years and years to come.
To keep up with great Crayola products and promotions, you can like Crayola on Facebook , you can follow Crayola on Twitter, and  you can also unwrap the gift of imagination with Crayola by visiting Crayola's Holiday Gift Guide.
The Crayola product to try, information, and additional gift pack have been provided by Crayola. As always, all opinions are my own.