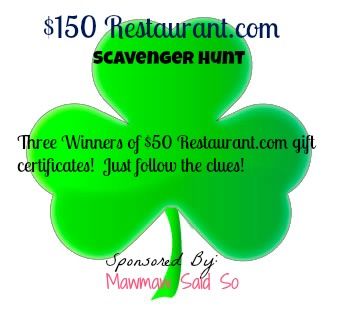 Do you love to quest? Love scavenger hunts? Well this giveaway is for you!
Mawmaw Said So and Generations of Savings are teaming up with some great bloggers to give away $150 worth of Restaurant.com gift certificates! That is THREE winners of a $50 Restaurant.com gift certificates so you have THREE chances of winning!
In honor of St. Patrick's Day coming up, there are secret words 'hidden' on each blogger's page. These words will have something to do with the holiday. Your job is to follow the links from the giveaway form, find the word in that post and then enter it in the giveaway form. Super easy! This is one of my favorite quotes from one of my favorite book series, " Humans are terrific questers–they love to look for things. The Holy Grail, or the truth, or the treasures in Zork, or whatever."  I love it because its true and not just when you are kids though a quest game or a scavenger hunt is one of the most fun things you can ask a kid to do.
This giveaway will run from 10:59 pm CST 2/20 to 10:59 pm CST on 3/1 so you will have plenty of time to get your prize and be ready to decide which restaurant you want your green beer at on St. Patrick's Day. Or corned beef hash. Or potatoes since being Irish and from the country, you can never go wrong with potatoes!
Prize will be provided by Mawmaw Said So via email once winner is verified. Bloggers are not responsible for Restaurant.com rule and conditions, availability of restuarants in winner's area, or any issues that may arise from using gift certificates. This giveaway is not associated with Restaurant.com, Facebook, Twitter, or any other entity unless otherwise stated.