This shop has been compensated by Collective Bias, Inc. and its advertiser. All opinions are mine alone. This post is intended for an audience of adults age 18 and older. #CueTheNewYear #CueVapor #SatisfactionAtLast #CollectiveBias
Disclaimer: The following post on the Cue™ Vapor System is intended for adults over the age of 18. The Cue™ Vapor System is not for sale to minors under any circumstances.
If you happen to go out into public today, I am confident you have seen the "vapers." The vapers are individuals who made the personal decision to vape. Why might someone vape? If you were to ask them, each person would have their reason(s). Realistically though, why someone vapes are their own decisions and their preferences. Also, I am not one to judge them. What I am here for, is to tell you my experience with the Cue™ Vapor System, and to offer my own opinion. After my experience, I can see how you can crush your New Year's goals with Cue Vapor.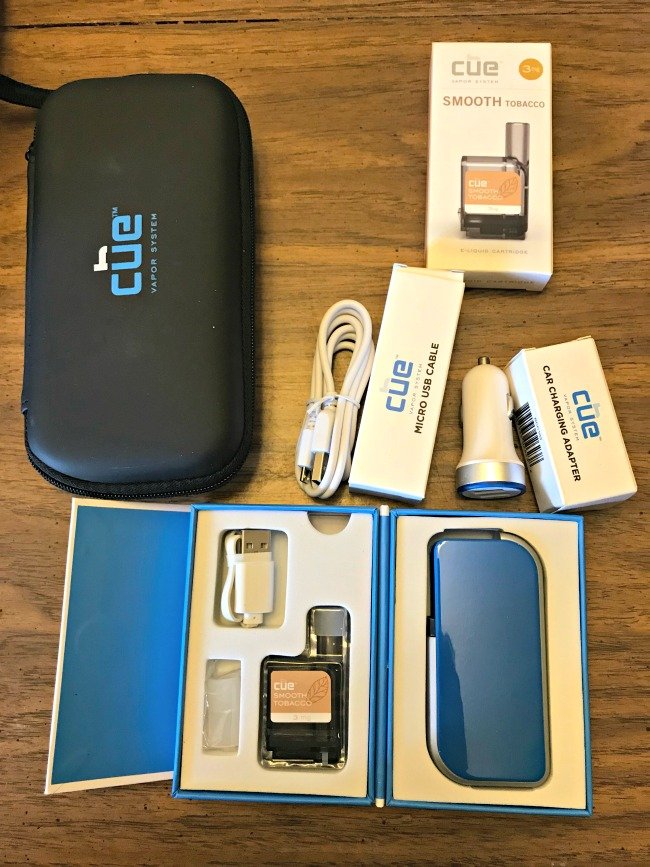 About the Cue™ Vapor System
Cue Vapor System prides their company on the ease of use of their Cue system. When you purchase your Cue Vapor System, you will be pleased to know that it comes with the following items: Cue vapor device, 5-ml Smooth Tobacco flavor cartridge that is 3 mg/ml of nicotine, buddy sharing tip, Micro USB charging cord and the instruction manual. You will also get to choose one of six colors for your Cue Vapor Device. These colors are white, pink, red, blue, orange, and black. After picking your color, I would recommend that you browse their other flavors of E-Liquid too. I found a few I liked the sound of and they have subscriptions available.
E-Liquid Cartridges
Generally speaking, the one thing that I did like about the E-Liquid Cartridges was that there was no mess involved. I have been around friends who vaped, and when they ran out of the E-Liquid, they would have to refill their cartridges. Having to fill their own cartridges often lead to spillage and waste of their juice. With the Cue Vapor System, the cartridges come pre-filled for the easiest use possible. Once your cartridge is empty, all you have to do is grab another cartridge and move along your way. Depending on your usage, each cartridge can last anywhere from one day to a week. It just depends on how often you take a drag.
E-Liquid Flavors
Your Cue Vapor System will automatically come with a cartridge of Smooth Tobacco that contains 3 mg/ml of nicotine. If you are unsure of the flavor that you may like, you can purchase their Discovery packs which contain five different flavors. Also, you can purchase different levels of nicotine. And you can search for stores online if you want to check them out in person.
How to use your Cue
Open your box and layout all of the items.

Use the Micro USB cord to fully charge your Cue – estimated at 2 hours to fully charge.

Take your cartridge and remove the cover from the bottom of the cartridge.

Insert your cartridge into the Cue Vapor box at a slight angle. It will click when in the proper place.

Once the cartridge is inserted, remove the silicone airflow plug and intake cover from the cartridge.

Rapidly click the silver button five times to turn on your Cue Vapor System.

Place in your lips.

Hold down the button while you inhale. Exhale the vapor.

Plug in your Cue Vapor System when the indicator light blinks red.
Tips for your Cue Vapor System
You can decrease the amount of vapor by covering one of the air holes.

Turn your Cue on or off with five rapid clicks.

Your Cue Vapor System comes with a 60-day limited day warranty.

Be sure to check your cartridge frequently so you don't run out of the juice.
How I felt using the Cue™ Vapor System
The initial set up of my Cue was quite simple and easy. I would say after reading the directions, it took me less than 30 seconds. After my sampling, I called over a friend who considers himself a "Vaping Guru." He had never heard of the Cue Vapor System, so he was eager to try it out. Here are some of his thoughts.
He liked the draw that the Cue Vapor System offers. He was also very pleased with the Smooth  Tobacco as well as the Apple Tobacco. Because the Cue Vapor System comes with a buddy tip, he was able to use the same Cue cartridge as me. He is very curious to try the other flavors as well.
As far as the Cue Vapor System, he was really impressed with the disposable cartridges that come pre-filled with the E-Liquid. The thought of not spilling the E-Liquid all over or possible leakage of over-filling left him very pleased. We travel together often to concerts and out of town and its left it hard to refill while driving or while being out somewhere. But this system has been great for roadtrips. The carrying case fits perfectly in the side of our day packs.
After talking with my friend, he came up with a plan to crush his New Year's goals with Cue Vapor. Use less waste, travel more, and a few others are the goals he has shared with me. One of these goals was to purchase his own Cue system. As a matter of fact, he wants to try one of the Discovery packs. He sees how their logo Vaping. Made Simple.™, is 100% accurate and to the point.
NOT FOR SALE TO MINORS. California Proposition Warning statement: "WARNING: This product can expose you to chemicals including nicotine, which is known to the State of California to cause birth defects or other reproductive harm. For more information, go towww.P65.com. WARNING: This product contains nicotine. Nicotine is an addictive chemical. Cue™, the Cue Logo and Vaping. Made Simple.™ are trademarks of Digirettes, Inc.