Parmesan-Roasted Broccoli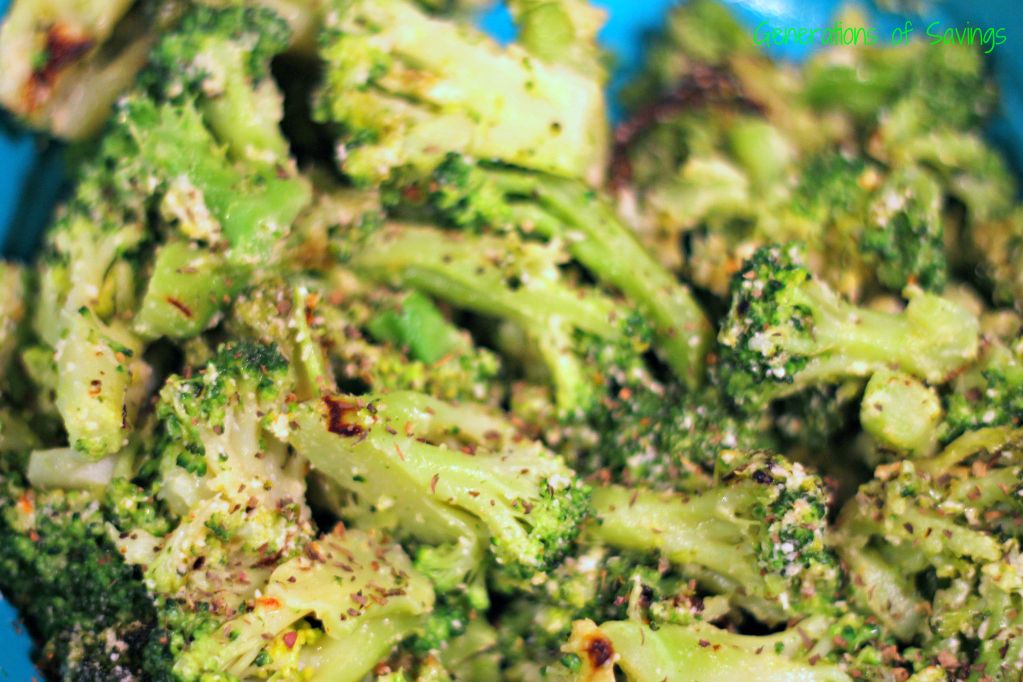 Parmesan Roasted Broccoli Recipe
Author:
Generations of Savings
Ingredients
2 16 oz bags frozen broccoli or fresh sliced florets
1 tablespoon garlic powder
4-5 tablespoons olive oil
1-2 tablespoons olive oil
1½ teaspoons kosher salt
½ teaspoon freshly ground black pepper
2 teaspoons grated lemon zest (optional: I didnt use it because Big E accidently threw it away and it still tasted great)
2 tablespoons freshly squeezed lemon juice
⅓ cup freshly grated Parmesan cheese
2 tablespoons basil leaves (best if they are fresh but I used dried)
Instructions
Preheat the oven to 425 degrees F.
Place the broccoli florets on a sheet pan in a single layer. Drizzle broccoli with 4-5 tablespoons olive oil. Sprinkle with the garlic powder, salt, and pepper. Roast for 20 to 25 minutes, until crisp-tender and the tips of some of the florets are browned.
Remove the broccoli from the oven and immediately toss with 1½ tablespoons olive oil, the lemon zest, lemon juice, Parmesan, and basil. Serve piping hot.